November 23 , 2020
Wessington Springs Lobby Open
The lobby of our Wessington Springs location is now back open. If you chose to come into the branch, we strongly encourage you wear a mask and keep socially distanced.  Our lobby hours are 9am to 4pm Monday through Friday.  The drive-thru is also open. 
November 16, 2020
Lobbies at 2 Sioux Falls Locations Closed
As of today, the lobby at our Sycamore and River Centre locations in Sioux Falls are closed.  However, you will be allowed in the branch if you have an appointment with a banker.  The drive-thrus at both locations are open during normal business hours.
The lobby at our locations in Huron, Pierre and Wessington Springs remain closed.  
November 9, 2020
Sioux Falls Lobbies Open
The lobbies of our 3 Sioux Falls locations are now open. If you chose to come into one of the branches, we strongly encourage you wear a mask and keep socially distanced.  As a reminder, the drive-thrus are open during normal business hours. 
November 2, 2020
Pierre Lobby Closed 
Effective November 2, 2020 we are closing the lobby of our Pierre location until further notice. This is due to a spike in COVID-19 cases in Hughes County. The drive-thru remains open during our normal business hours. You will be allowed in the Pierre branch if you have an appointment with a banker. To schedule an appointment, please call us at 605-224-9233.
October 29, 2020
Wessington Springs Lobby Closed 
Recently, there has been a spike in COVID-19 cases in Jerauld County and out of an abundance of caution, we are closing the lobby of our Wessington Springs location until further notice. However, the ATM in the entryway of the bank is still available, 24 hours a day, 7 days a week.  You will be allowed in the Wessington Springs branch if you have an appointment with a banker.  To schedule an appointment, please call us at 605-539-1222.
October 26, 2020
Huron Lobby Closed 
Recently, there has been a spike in COVID-19 cases in the Huron area and out of an abundance of caution, we are closing the lobby of our Huron location until further notice. However, you will be allowed in the Huron branch if you have an appointment with a banker.  To schedule an appointment, please call us at 605-352-9122. 
October 22, 2020
Sioux Falls Lobbies Closed 
Our concern is for the well-being of our employees, customers and the communities we serve. Recently, there has been a spike in COVID-19 cases in the Sioux Falls community and out of an abundance of caution, we are closing the lobbies of our three Sioux Falls locations until further notice. If you would like to set an appointment to meet with a banker, please contact your Sioux Falls location to schedule.
June 12, 2020
Paycheck Protection Program – Loan Forgiveness Updates
We'd like to share some additional Paycheck Protection Program (PPP) loan forgiveness updates. On June 5, Congress approved the Paycheck Protection Program Flexibility Act of 2020. This bill is intended to provide businesses with more time and flexibility to keep their employees on payroll and to aid their continued operation. You can read the press release announcing the passage of the legislation here.
We now are awaiting final guidance from the SBA regarding program changes to help borrowers and lenders navigate the forgiveness process. At this time, there are still some unanswered questions, but be assured that American Bank & Trust will be here to help you through the process and keep you updated with relevant rules and guidance.
Some highlights of the PPP Flexibility Act include:
Extending the Covered Period from the current 8 weeks to 24 weeks, but allowing borrowers who already have a PPP loan to retain the option to use an 8-week Covered Period
Easing the amount that must be spent on payroll from 75% of loan proceeds to 60% of loan proceeds
Extending the time a PPP borrower has to restore Full-time Employee (FTE) counts until December 31, 2020
We continue to monitor progress to stay in front of the changes and will continue to communicate with you when we receive updated final guidance and are ready to take forgiveness applications. At this point, there is currently no deadline for borrowers to apply for forgiveness.
The SBA, in conjunction with the U.S. Treasury, will be issuing a modified loan forgiveness application to reflect the legislative amendments to the PPP. Until the modified application is available, please review the preliminary application, as it lists the required supporting documentation, as well as what is to be retained by the borrower. Here is a link to the preliminary loan forgiveness application that was first released on May 15. This is the best information that we have, to date, that refers to forgiveness and the documentation required. As you plan for forgiveness of your PPP loan while application materials are finalized, continue to document your use of funds on eligible expenses.
More information surrounding the forgiveness process will be shared to help you navigate the process as easily as possible.  We are working hard to ensure that our process will be a clean and successful method.
As always, you can reach out to any of our bankers with any additional questions.  Thank you again for choosing American Bank & Trust with your PPP and banking needs.
May 21, 2020
Economic Impact Payments (EIP) Debit Cards
Economic Impact Payments, also known as stimulus payments, continue to be sent to people across the US.  During the week of May 18th, some individuals who qualify for a payment, received a prepaid Debit Card with their funds. If the IRS did not have bank account information, and you did not receive a paper check, your funds will be made available through a Debit Card. This is what the Debit Card looks like –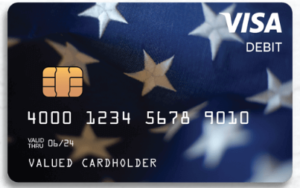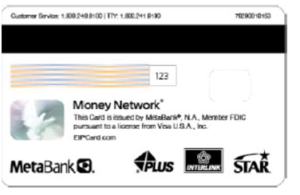 Details on how the card works, how to activate, create and access your online account, and Frequently Asked Questions (FAQs) can be found at the website www.EIPCard.com.
April 6, 2020
IRS Warns Consumers about Stimulus-Check Scams
Most Americans are going to be receiving an economic impact payment with the recent stimulus regulation related to the COVID-19 pandemic. These one-time payments will be sent to eligible individuals over the coming weeks.   To learn more about economic impact payment program, and how much you are eligible to receive, go to www.IRS.gov/coronavirus.
Fraud is always a concern, especially during times such as the COVID-19 pandemic.  The Internal Revenue Service is warning taxpayers about possible scams aimed at illegally grabbing upcoming COVID-19 economic impact payments.
The payments will be on their way in the coming weeks and for most recipients, they will be directly deposited into bank accounts. For those without accounts who have traditionally received tax refunds via paper check, they will receive their economic impact payment through the mail.  Scammers may try to get you to sign over your check to them or get you to "verify" your filing information in order to steal your money.
The IRS issued the following tips to spot a COVID-19-related scam:
Your payment will be made into the direct deposit account you previously provided on your tax return (or, in the alternative, send you a paper check).
The IRS will not call and ask you to verify your payment details. Do not give your bank account, debit account, or PayPal account information to anyone – even if someone claims it's necessary to get your check.
If you receive a call, just hang up. Do not engage with scammers, even if you want to tell them that you know it's a scam.
If you receive texts or emails claiming that you can get your money faster by sending personal identifying information or clicking on links, delete these texts and emails. Do not click on any links in those texts or emails.
There are reports about bogus checks being circulated. If you receive a "check" in the mail now, it is a scam. It will take a few more weeks to mail out the COVID-19 economic impact payments. If you receive a check for an odd amount, especially one with cents, or a check that requires you to verify the check online or by calling a number, it is a scam.
If something sounds too good to be true, it is probably fraudulent.  We ask all of our valued customers to stay extra attentive regarding these scam attempts.  If you have any further questions regarding fraud, please reach out to your American Bank & Trust banker or visit the IRS website for more details.
April 2, 2020
Important Info About Required Minimum Distributions
Required Minimum Distributions (RMDs) out of retirement accounts may be suspended for 2020.  This includes Traditional IRAs, SIMPLE IRAs, SEP IRAs, Inherited IRAs, and Qualified Retirement Plans, such as 401(k)s.  Please contact your local banker if you currently have an automatic distribution set up and would like skip your 2020 RMD.
April 1, 2020
CARES Act – Small Business Relief 
The Coronavirus Aid, Relief, and Economic Security (CARES) Act was created to help small businesses keep workers employed amid the pandemic and economic downturn. The U.S. Chamber of Commerce created a Small Business Guide and Checklist to help you understand what is available and how to take advantage of this program. You can access this guide below.
The United States Congress recently approved nearly $350 billion to help small businesses keep workers employed amid the COVID-19 pandemic and economic downturn. The Paycheck Protection Program (PPP), which is part of the CARES Act, provides 100 percent SBA guaranteed loans to small businesses, non-profit organizations and other qualified entities. These loans may be entirely forgiven if borrowers meet program requirements. For questions on eligibility, or details of the program, click here to access the Cares Act Small Business Guide and Checklist below or reach out to your banker with any additional questions. The Paycheck Protection Program Application Form is accessible by clicking here . Please return the completed form to your banker.
March 30, 2020
Stimulus Payments
 One provision of the final stimulus bill is the payments that will be sent to most Americans. These one-time payments will be sent to eligible individuals, which means anyone who is a legal resident, is not claimed (or eligible to be claimed) as a dependent on someone else's tax return and doesn't exceed earning thresholds.
American adults will be granted the following one-time payments:
$1,200 payment to individual taxpayers
$2,400 payment for married couples filing jointly
An additional $500 per qualifying child under the age of 17.
To find out what you should expect to receive, use this calculator as a guide. NOTE: This calculator is meant to be used as an estimate.  Actual payments may vary.
Other details about the stimulus package payments:
Stimulus amounts will be paid out based on 2019 income (or 2018, if an individual hasn't yet filed their 2019 tax return).
Those who receive Social Security retirement or disability benefits but earn too little to have to file returns, will also receive stimulus payments based on the information sent to the IRS on their 2019 forms SSA-1099 and RRB-1099.
College students and older teens who are dependent on their parents for more than half their support aren't eligible for the checks, even if they earn a little money on the side.
If you earned too much in 2018 or 2019 to receive a stimulus payment, but the impact on the economy dropped your 2020 income to a level that would qualify, when you file your 2020 income taxes, you would then be eligible for the payment in the form of a tax credit.
If you've used a bank account for direct payments to or refunds from the IRS, your money will be direct-deposited into the account you most recently used. Direct deposits could go out within three weeks of the stimulus approval.
Individuals who don't have a bank account on file with the IRS will be sent checks in the mail, according to their most recent address on file. These check payments are likely to take longer than the direct deposit payments.
Individuals who are unable to work or telework because they are under medical quarantine or treatment for COVID-19, suspect they have the illness or are ordered to quarantine at home are eligible for the payment.
Borrowers with federally backed mortgage loans—loans under Fannie Mae and Freddie Mac—who are experiencing financial hardship due to COVID-19 can request forbearance on their payments for up to six months. Borrowers must submit a request to their servicer and affirm that they're experiencing a financial hardship during the crisis. Additionally, no foreclosures or evictions from properties with federally backed mortgages can occur during this period. During the mortgage forbearance period, interest will still accrue. However, additional fees, penalties or extra interest cannot be added to mortgages.
Normally, individuals who withdraw funds early from retirement accounts early (typically before age 59 1/2) must pay a 10% penalty as well as ordinary income taxes.  The stimulus relief package, however, provides that "coronavirus-related" distributions of up to $100,000 will be allowed, without the early withdrawal penalty being applied. The sum withdrawn may be re-contributed to a retirement account within three years, without being subject to the usual annual contribution caps. If it's not repaid, the withdrawal will be taxed as ordinary income tax rates over a three-year period.
Many details are still being decided, but this is a general overview of how the stimulus payment program will function.  More details will continue to surface and we will work to keep you updated with the latest developments.
March 19, 2020
Lobby/Office Customer Access Restrictions
In these uncertain times, our concern at American Bank & Trust is for the well-being of our employees, customers and the communities we serve.
The Centers for Disease Control's (CDC) guidelines has recently lowered interaction to groups of ten or fewer, therefore we believe it is time to restrict in-bank transactions and move to banking via drive-up, online banking or our mobile app.
For these reasons, the following steps are being taken. Effective Friday, March 20th at 1:00 p.m. all American Bank & Trust lobbies will be closed to the public, unless appointments have been scheduled.
• All drive-through facilities will be open normal drive-through hours.
• Our loan officers, personal bankers and staff will be available by phone or email to answer any questions or set appointments.
• As a precaution to protect our customers and employees, we are asking you to call ahead or request an appointment before visiting one of our branch lobbies in person.
• Alpena, Carthage, Wolsey, and Mellette customers are encouraged to use night drop and ATM's where available, or schedule appointments for banking services with their local banker.
All of our banking, insurance, mortgage and investment services are available to customers. We are taking this precaution to limit and control the environment of any in-person interactions. To schedule a meeting with a banker please call your local branch location. This critical step, among others, is being taken to help with social distancing, identified as a key deterrent to the spread of the virus.
We encourage you to use the following banking methods:
• Drive through lanes
• Automated teller machines (ATMs)
• Online and mobile banking app
• Phone banking and email
• Night Depository for deposits and other information
• Direct mail of deposits
We understand this may cause some modification of routines and potential for wait times in drive-up lanes. This was not an easy decision to make, but is in the best interest of employees and customers during this challenging time. It is important that we all do what we can to limit social interaction in order to flatten the Coronavirus infection curve.
DEPENDABLE SOURCES: Information about the COVID-19 and its impact is widespread and changing daily. It is important you have access to current and factual information. The Centers for Disease Control (CDC) website provides daily updates on the coronavirus.
BE AWARE OF SCAMS: Please also be aware that there has been an increase in scams via email, phone and social media regarding COVID-19. The Federal Trade Commission is providing updates regarding possible scams.
KEEP UP-TO-DATE WITH US: We will continue to monitor developments around COVID-19 and provide updates as they relate to our Bank on our Facebook page and at www.ABT.bank.
Also, in accordance with CDC guidance, we are asking that anyone who is experiencing a fever or respiratory illness or those that have recently traveled to CDC Level 2 or 3 countries postpone their visit to any American Bank & Trust location for the appropriate amount of time.
March 13, 2020
A Note From Our CEO
To our clients and friends:
Our highest priorities are the health and safety of our staff, our customers, and the well-being of the communities we serve. To that end, like many banks, we have activated our Pandemic Contingency Plan as a precautionary step in response to the coronavirus (COVID-19). Our Plan follows guidance from the Centers for Disease Control and Prevention (CDC) and state and local public health authorities in the areas we serve.
We have one simple objective that guides us: keeping you and our employees safe.  This has been at the center of our conversations every step of the way.  With that in mind we have taken several steps in our business in response to the threat of the coronavirus.
While not a comprehensive list, the Plan calls for:
We are increasing cleaning and sanitization efforts in our offices with hand sanitizers and wipes available at our teller stations and offices.
We have reinforced with our staff the importance of washing their hands frequently.
Employees that are sick or feeling ill will be kept at home until fully recovered.
Per Centers for Disease Control's recommendation, we will ask employees who have traveled internationally or on cruise ships, or have been exposed to others who have traveled to such locations to self-quarantine for 14 days.
We will restrict business-related employee travel until further notice and use teleconference capabilities instead in order to prevent the spread of illness.
We will be in communication with you as this evolves and will follow-up with information about our free on-line and mobile banking products that may be of aid and convenience to you during this time.
As a family owned community bank, AB&T takes pride in being locally responsive, keeping a long-term view, helping our customers meet their objectives, and providing high quality service. These community banking values will guide us through this pandemic event.  Our objective is one of limiting business disruption while providing leadership in our communities to maintain a healthy environment.  We are in this together, and if there is anything that we can do to assist you, please do not hesitate to contact us
As always, thank you for the opportunity to serve you.
Best Regards,
Doug Tribble, President and CEO