Welcome to a Bank that Appreciates Creative Thinkers
At American Bank and Trust, we know our customers dream big. That means our team has to think big because we are not here to just do financial transactions. We're a different kind of business bank.
Your aspirations need a strong foundation to grow. American Bank & Trust delivers the reliability to help you realize your ambitions. We strive to truly know your business' unique needs, challenges, and goals for your business.
Take this opportunity to gain an edge with American Bank & Trust, where we apply attention to detail, care, vision, and passion to every customer relationship.
Enjoy these business opportunities with American Bank and Trust:
Local Decision Making




$22 Million Lending Limit




Responsive, Convenient Services




*Free Business Checking




**6 Months No Cash Management Fees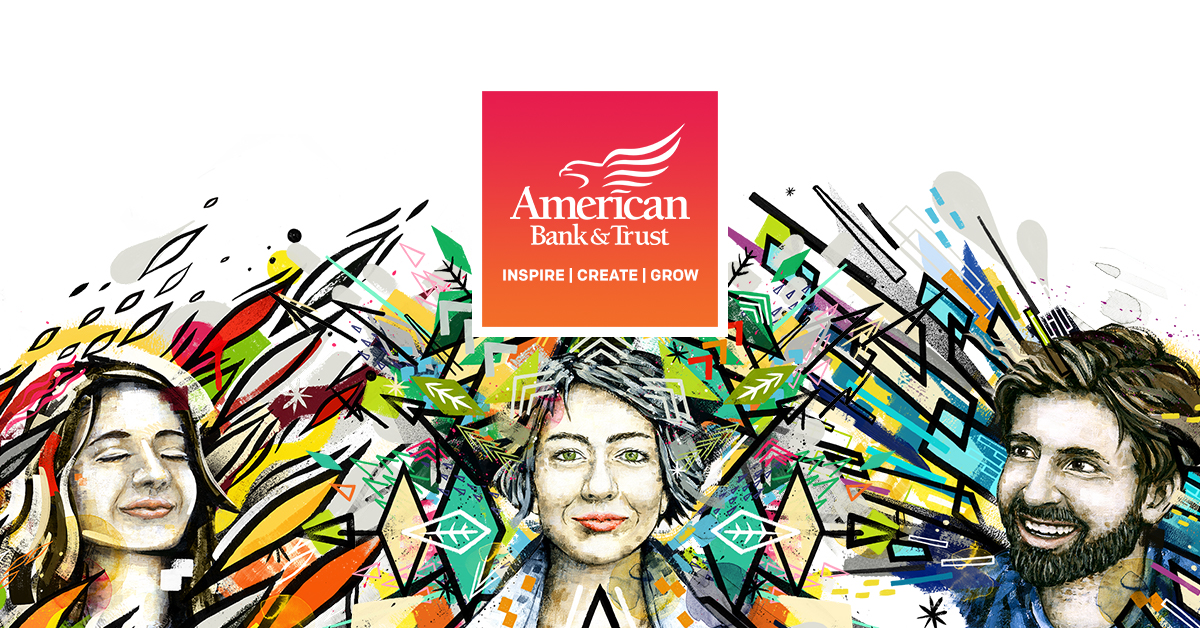 Our Customer Service Guarantee
We will welcome you to our bank and in the community genuinely and compassionately by:
Greeting you with a smile, eye contact, and a handshake.

Addressing you by your name.

Introducing you to our team.
We will be committed to your financial and personal success by:
Asking about and listening to your goals, passions, and needs.

Offering ideas and options tailored to meet your expectations.

Providing you with timely and relevant information regarding financial matters.
We will earn and sustain your trust by:
Delivering on our promises and commitments, whether they are big or small.

Protecting your confidentiality in a serious and secured manner.

Hiring engaged and caring individuals with high character and strong morals.
We will be honest, respectful, and responsive in our communication to you by:
Disclosing all terms and conditions through clear and concise communication.

Returning emails and phone calls in a timely manner.

Thanking you for your relationship.
Safety and Soundness of American Bank & Trust
Knowing the strength of your financial institutions is important for getting the most out of your money. By choosing a financially strong institution that puts you first, you can make sure your money is most secure. But how can you predict which banks are the most secure? You can ensure you are choosing a successful financial institution that will keep your money safe by reviewing The Texas Ratio Bank Ratings, Bauer Bank Ratings, and DepositAccounts. com Bank Ratings.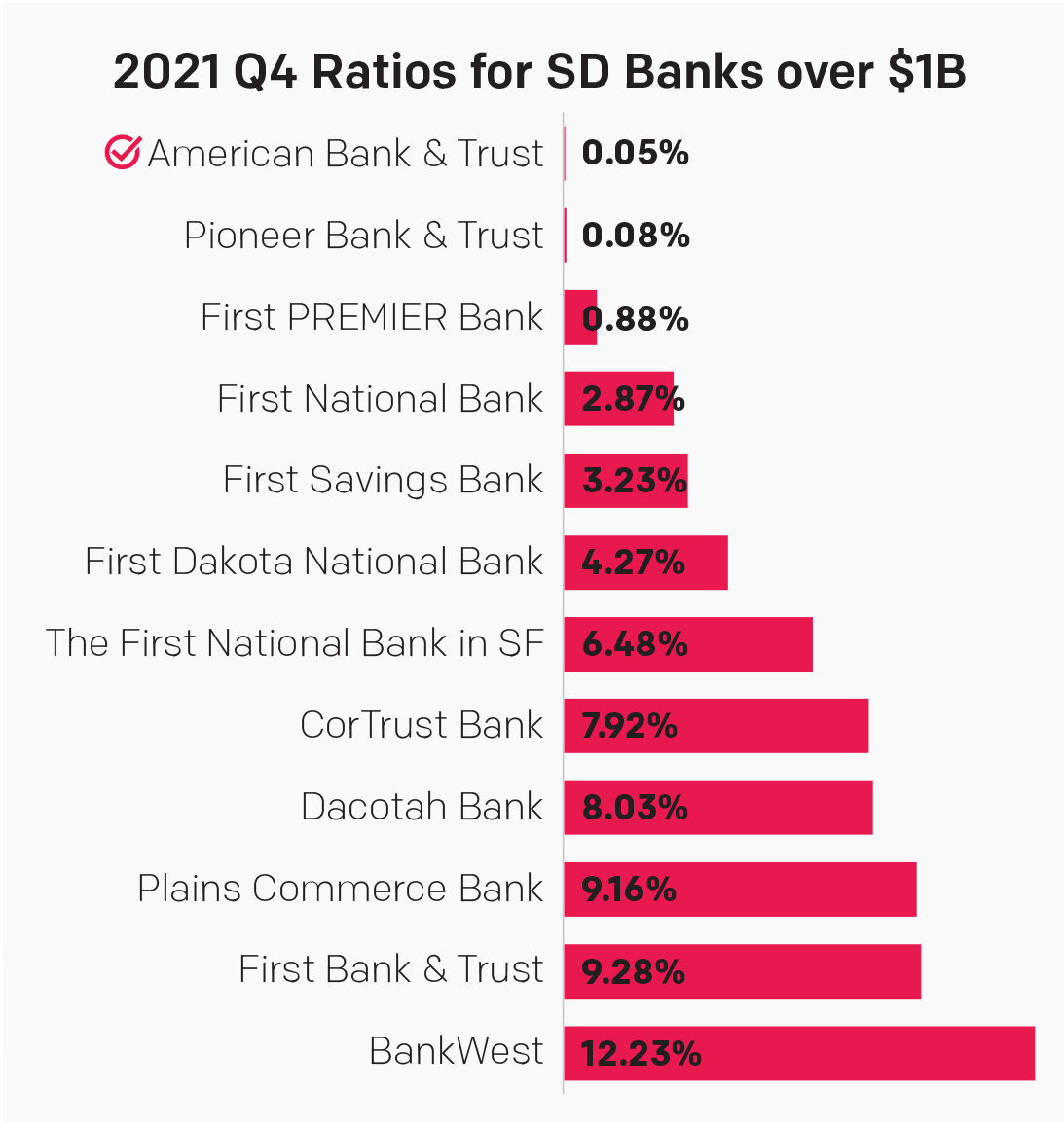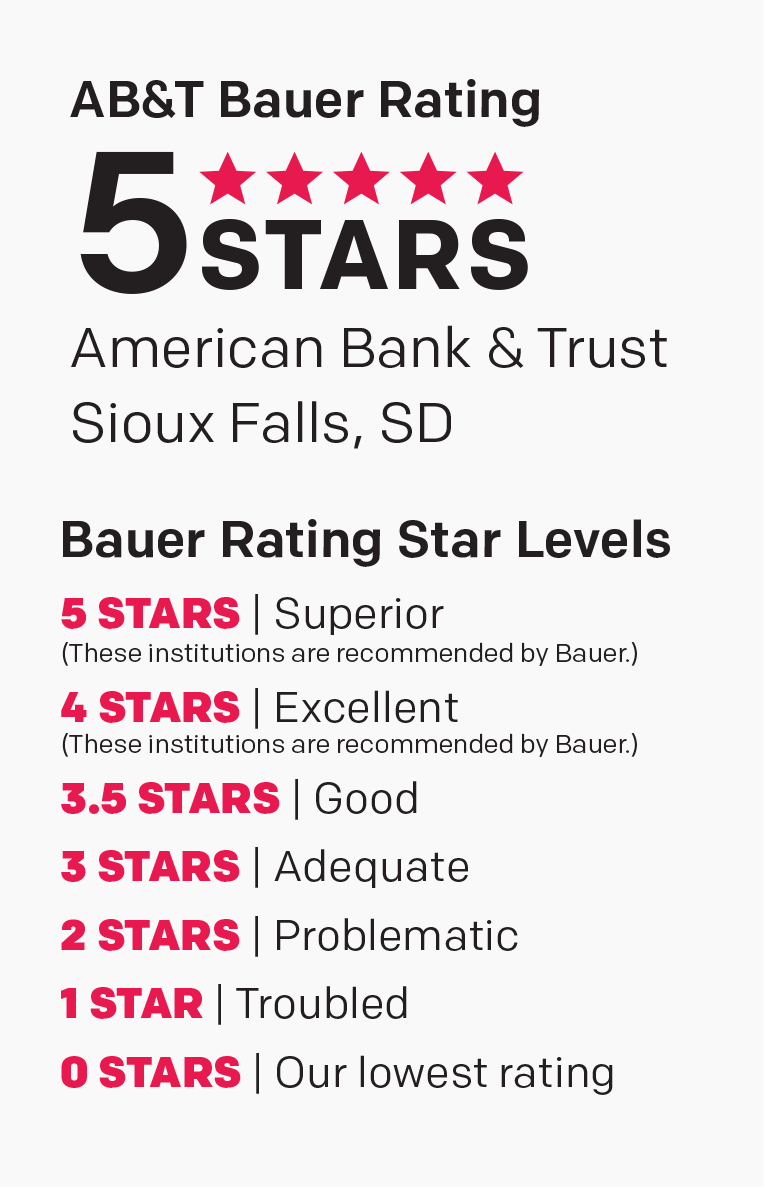 DepositAccounts.com Rating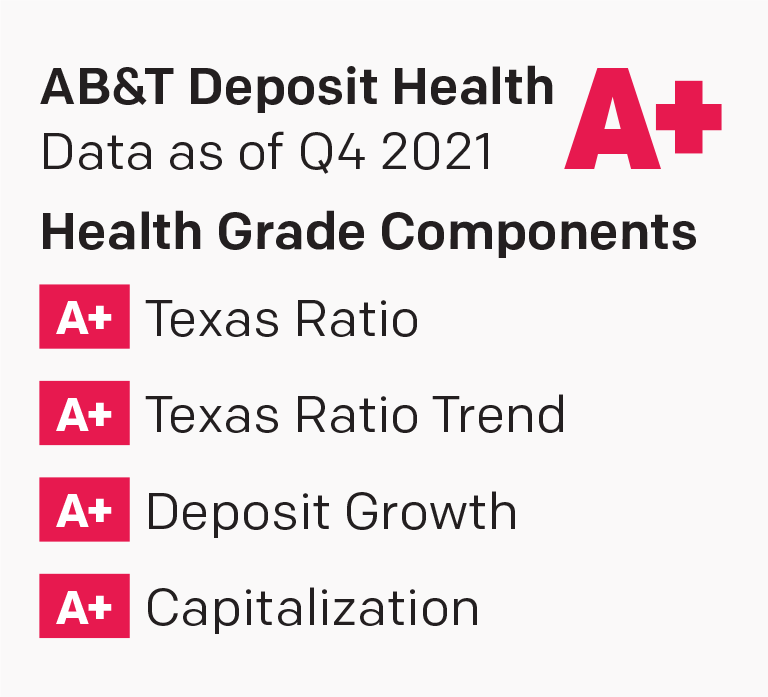 Free Business Checking Disclaimer
Minimum opening deposit $50. Ask us for details. Bank rules & regulations apply. Other fees such as non-sufficient funds, overdraft, etc. may apply. Contact your local banker for the current fee schedule. If Totally Free Business account exceeds 500 free monthly transactions, the account may be converted to another checking product. 
Learn more details about Free Business Checking, or ask us at any AB&T Branch Location.
6 Months No Cash Management Fees Disclaimer
Cash Management Fees include Business Checking Analysis fees and Business Solutions PLUS+ fees. Analysis fees will be waived beginning the first full month following the month in which new account or service is opened or originated and will continue for 6 full calendar months thereafter. After the no fee 6-month period, agreed analysis pricing will apply. Offer available for new Cash Management customers only. Some restrictions may apply. Ask a banker for details.
*Loans and limits are subject to approval.