Medicare Made Simple
Don't be confused over the jargon and run-on sentences with Medicare. At American Bank & Trust, our Medicare Program experts break down Medicare into easily digestible information so you don't feel overwhelmed. This is an important time in your life and you need to be confident in your choices. We will help you every step of the way to understand Medicare and all the options available to you.
Medicare Options
Medicare covers a wide variety of drugs and therapies through the different program options. You should have the below options to choose from for Medicare Programs.
Medicare Part A
Covers drugs administered in a hospital or nursing facility.
Example – Part A covers the cost of medication needed to recover from a hospital procedure, like a hip replacement.
Medicare Part B
Covers drugs administered in a doctor's office or hospital outpatient setting.
Example – Part B covers chemotherapy for someone getting weekly infusions at the doctor's office.
Medicare Part C
Also known as Medicare Advantage.
Covers everything that Part A and Part B typically cover.
Most Medicare Advantage plans include Part D prescription drug coverage as well.
Medicare Part D
Covers prescription drugs.
Part D plans must cover at least two drugs in each of six therapeutic categories: antidepressants, antipsychotics, anticonvulsants, immunosuppressants, antiretroviral, and antineoplastic.
In 2020, about 1.4% of beneficiaries – an estimated 776,200 people – paid a late enrollment penalty, which drove their monthly cost up about 27%. A late enrollment penalty is 10% for each 12-month period an eligible person goes without Medicare Part B. Individuals can only sign up for Medicare during one of three enrollment periods.
Find which Medicare Enrollment Period will work best for you.
Medicare Comparison Chart
You have two choices when signing up for Medicare. You can choose from Traditional Medicare or Medicare Advantage. Both are similar products but have unique offerings to meet your specific needs.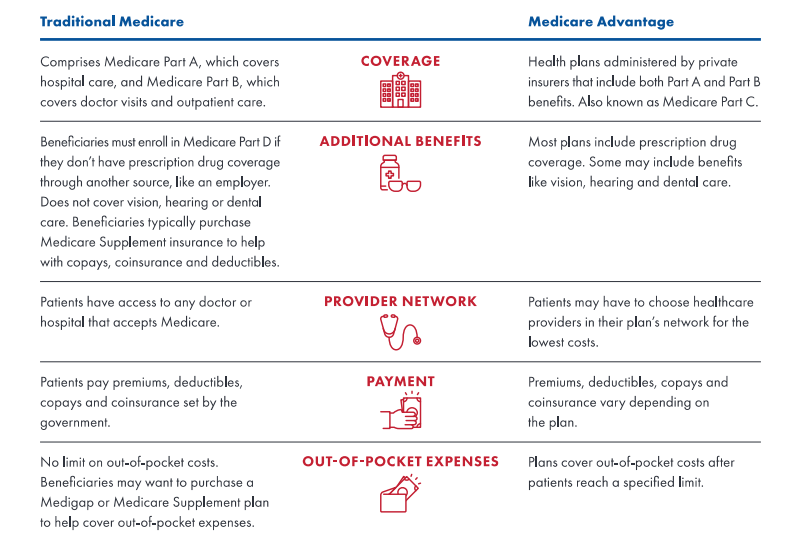 Not FDIC Insured | Not Bank Guaranteed | May Lose Value | Not Insured by any Federal Government Agency | Not a Bank Deposit
We do not offer every plan available in your area.  Any information we provide is limited to those plans we do offer in your area.  Please contact Medicare.gov or 1-800-MEDICARE to get information on all of your options.