American Bank & Trust strives to make an impact throughout our local communities to let them know that we genuinely care. We give back to our communities through a variety of donations, event, programs, and sponsorships.
Each year, our Spirit Card program helps schools within our communities to purchase additional needs for staff and students. In 2023, AB&T is awarding a total of $45,107 to local schools through our Spirit Card Program – almost double the amount from 2022!
Spirit Card Program To Help Local Schools
Support your favorite local school by getting an American Bank & Trust Spirit Card. In response to the mounting budgetary needs of school districts, American Bank & Trust is inspired to give back to our local communities through Spirit Cards. Use your Spirit Card to make purchases and we will donate a percentage from each purchase back to the school district on your card.
 Spirit Cards have helped schools purchase everything from bus passes for kids in need, to a climbing rock wall, travel expenses for FFA Convention, and library furniture.
 Get your Spirit Card today by speaking with a banker to at any of our American Bank & Trust locations.
2023 Spirit Card Donations
Spirit Card Donation season is back in full swing! This year AB&T is awarding a total of $45,107 to local area schools and our donations have already started to make an impact!
Corsica-Stickney Jaguars
Corsica-Stickney Jaguars received a check for $1,000. These funds will be put towards laptop carts.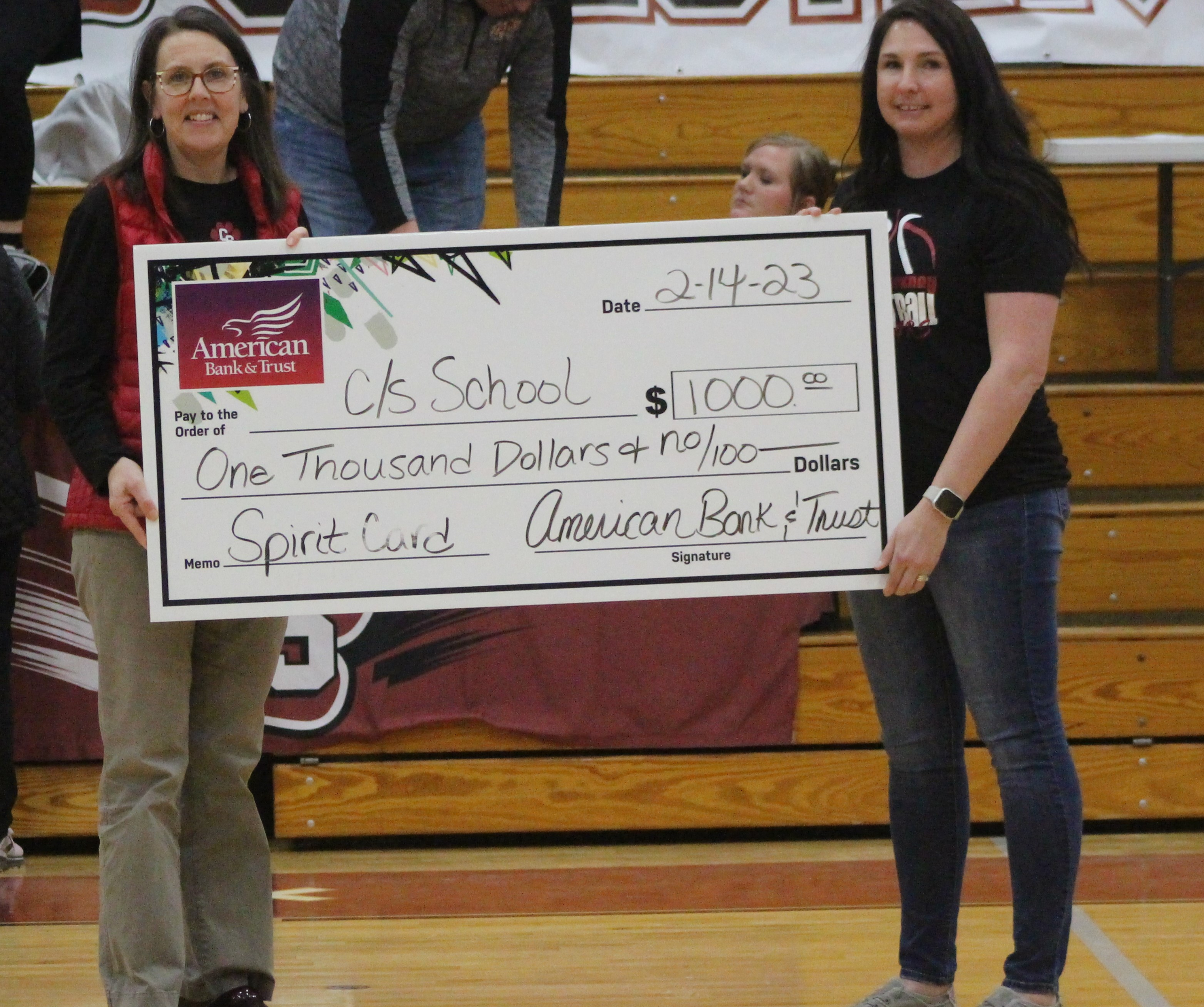 De Smet Bulldogs
De Smet Bulldogs were presented with a donation of $5,383 to put towards new furniture for their elementary library.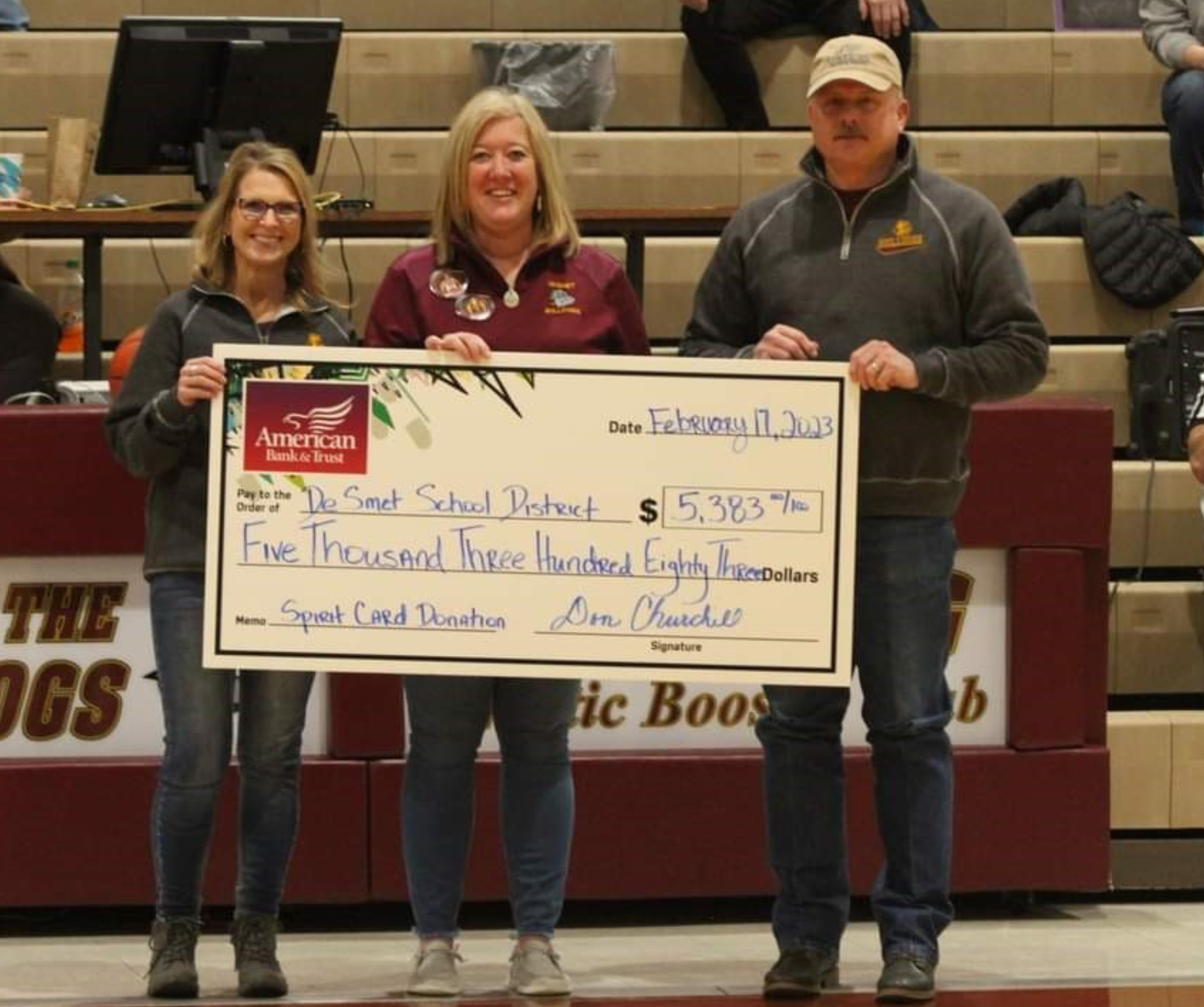 Howard Tigers
Howard Tigers will be using their $1,000 donation from the Spirit Card program to assist in their Disability Awareness Day.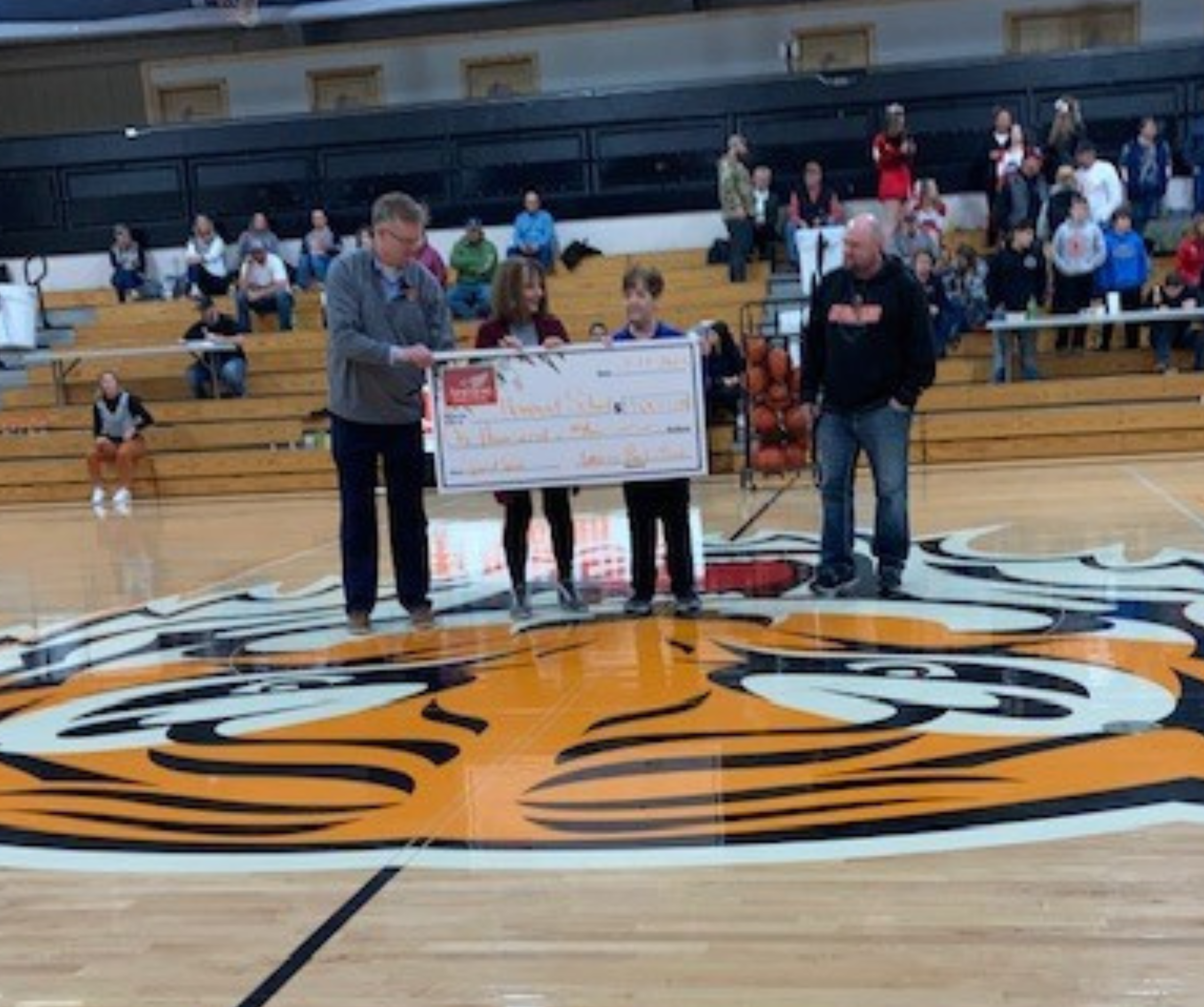 Huron Tigers
Huron Tigers received a donation of $8,768 to be used for Cheer & Dance equipment, 7th grade book publishing, classroom headphones, science lab materials, and OSMO independent learning aid.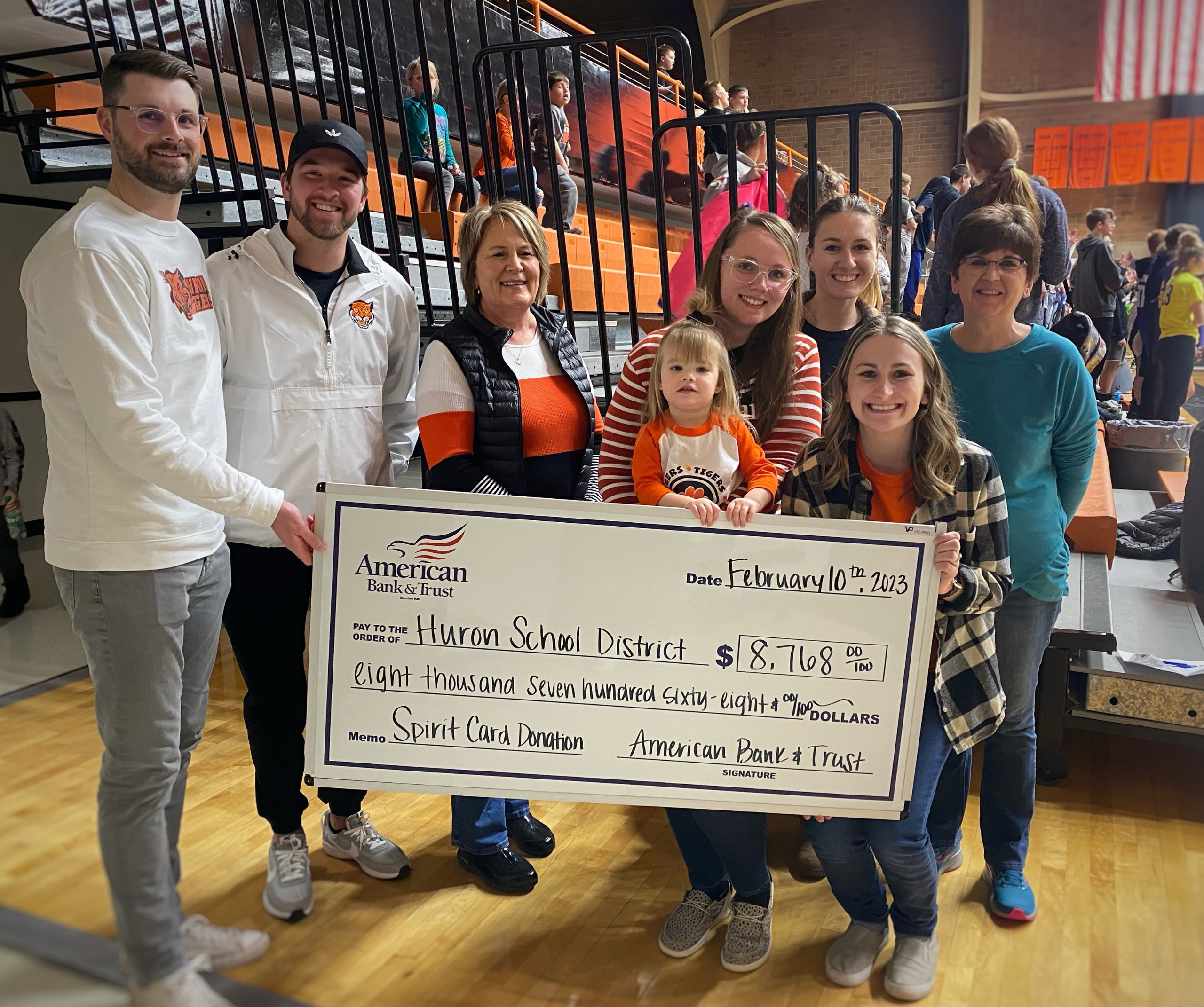 Iroquois Chiefs
Iroquois Chiefs were presented with a check for $1,000 to help purchase Flipboards.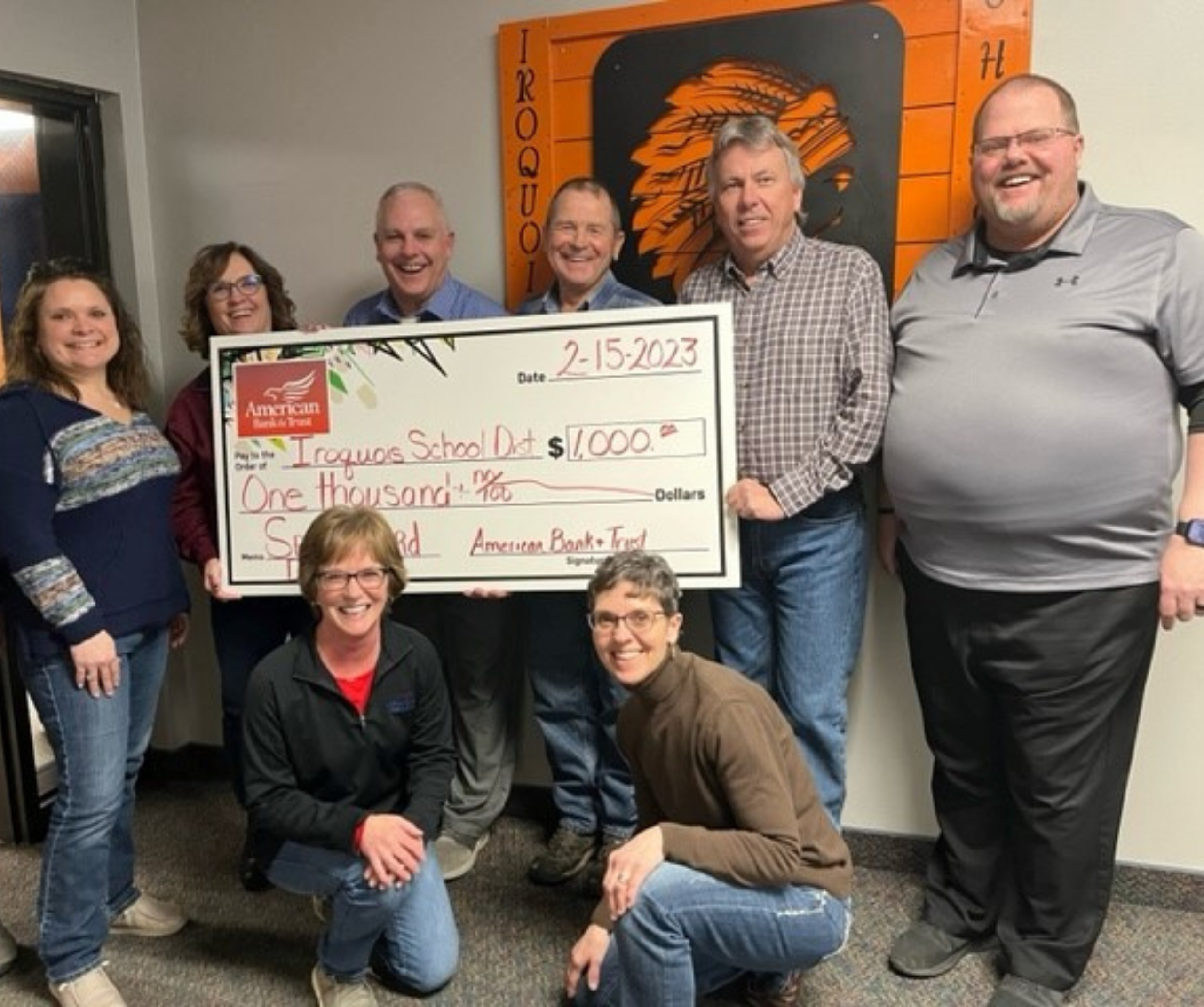 James Valley Christian (JVC) Vikings
James Valley Christian (JVC) Vikings will be using their $1,000 donation for teacher supplies.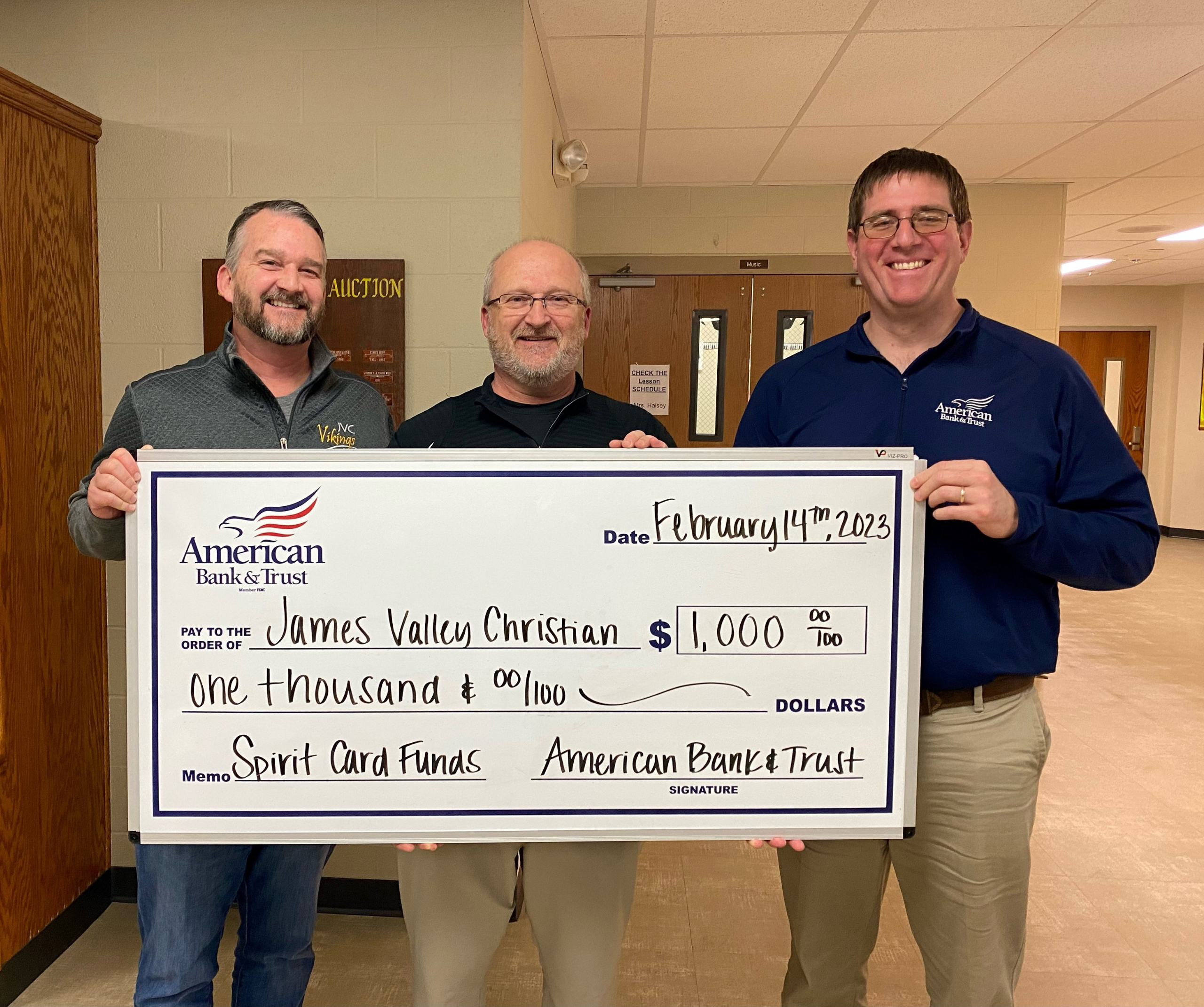 Miller Rustlers
Miller Rustlers received a check for $6,943 that will be put towards their Armory Sound System.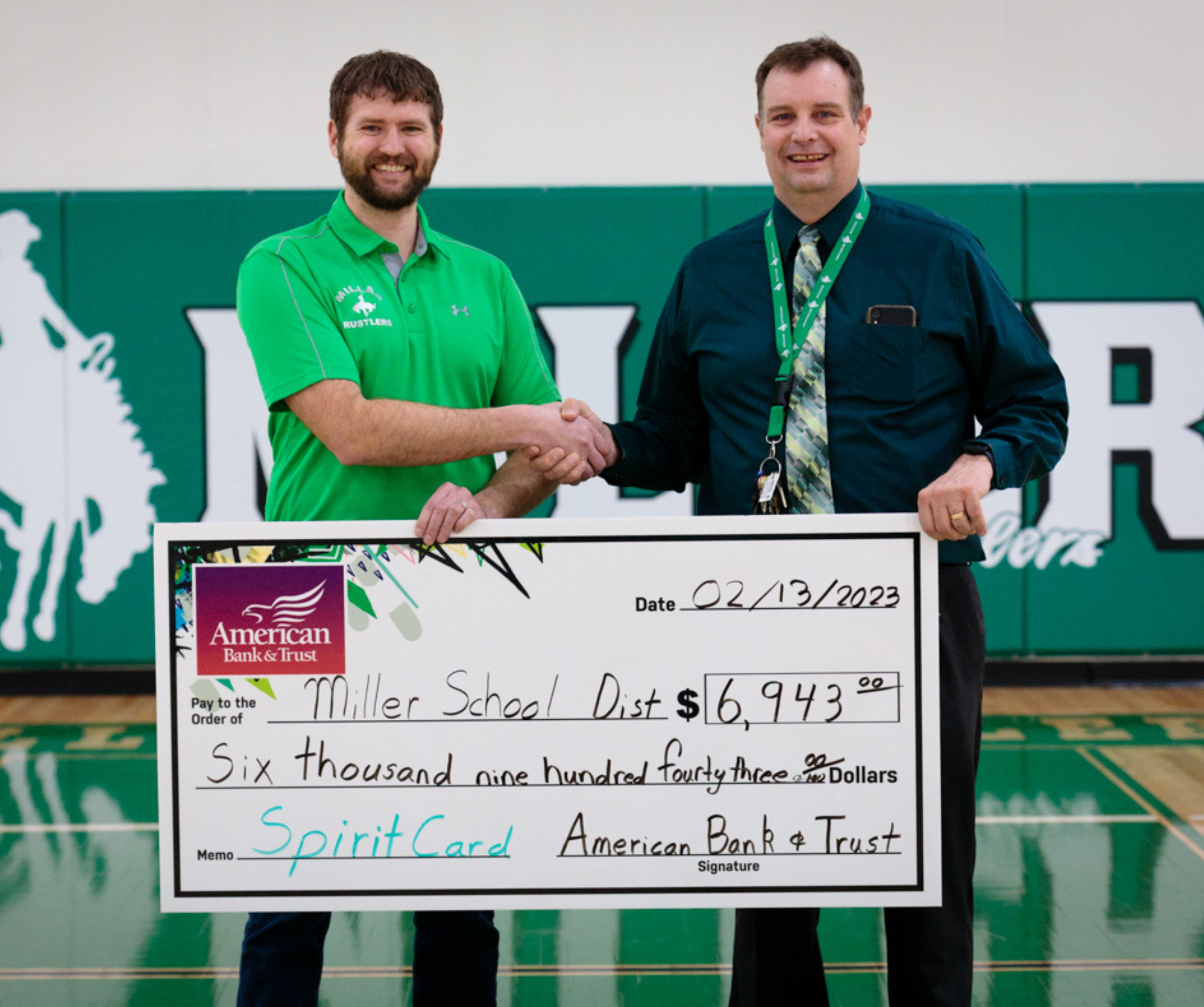 Northwestern Wildcats
Northwestern Wildcats were given a donation of $2,239. This donation will be put towards a convection oven and popcorn popper for the concession stands.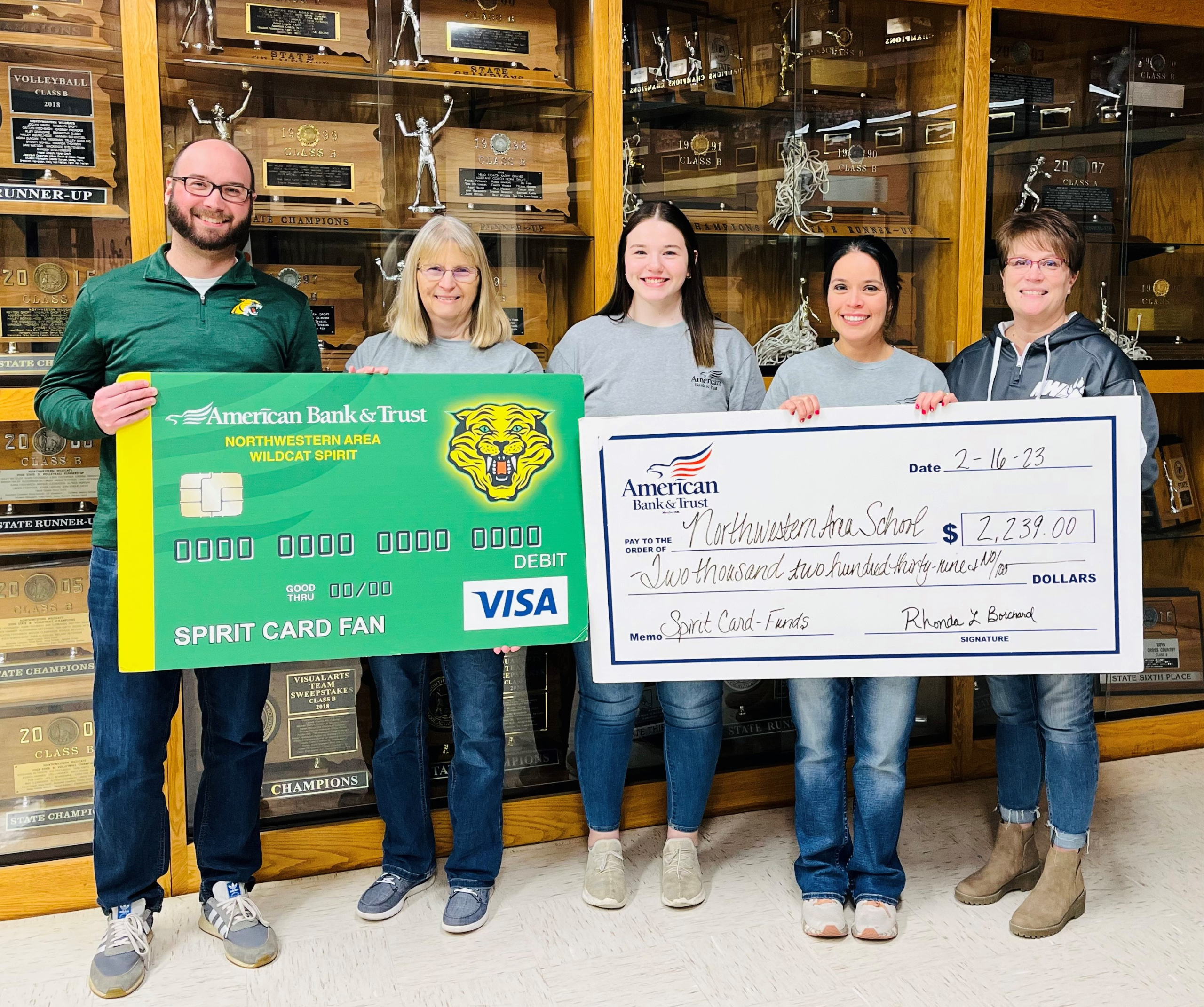 Pierre Governors
Pierre Governors will be using their $5,330 donation for a disability swing, new sewing machines, air intake shop dust collector, and fundraisers.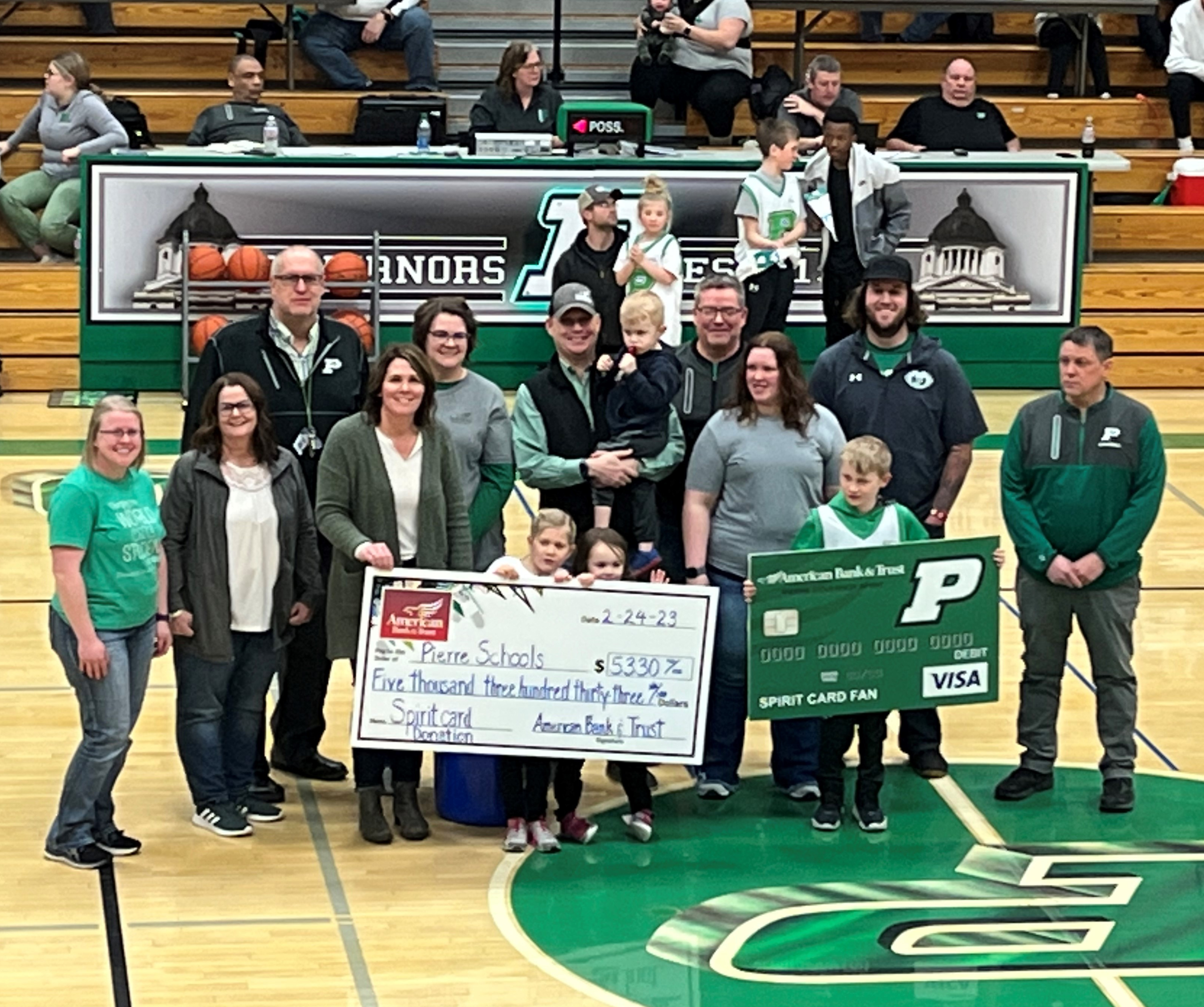 Stanley County Buffalo
Stanley County Buffalo received a check of $2,088 to be used for a drum set, stage lighting, reading bean bags, iPads, and programs to help those with autism.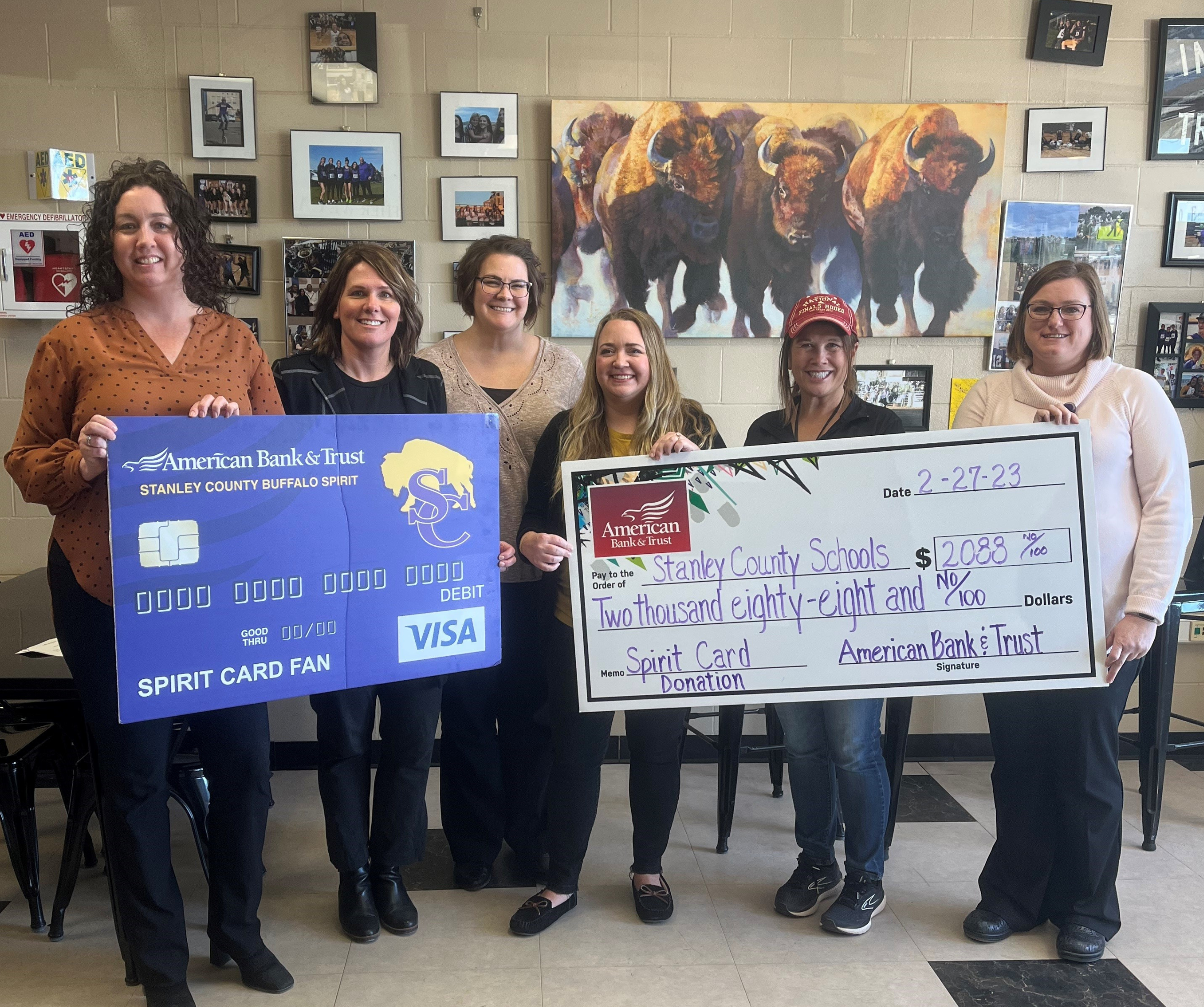 Watertown Arrows
Watertown Arrows will be putting their $1,000 donation towards general uses.
Wessington Springs Spartans
Wessington Springs Spartans were presented with a $5,113 donation that will be used for standing desks, magnetic white boards, and their locker project.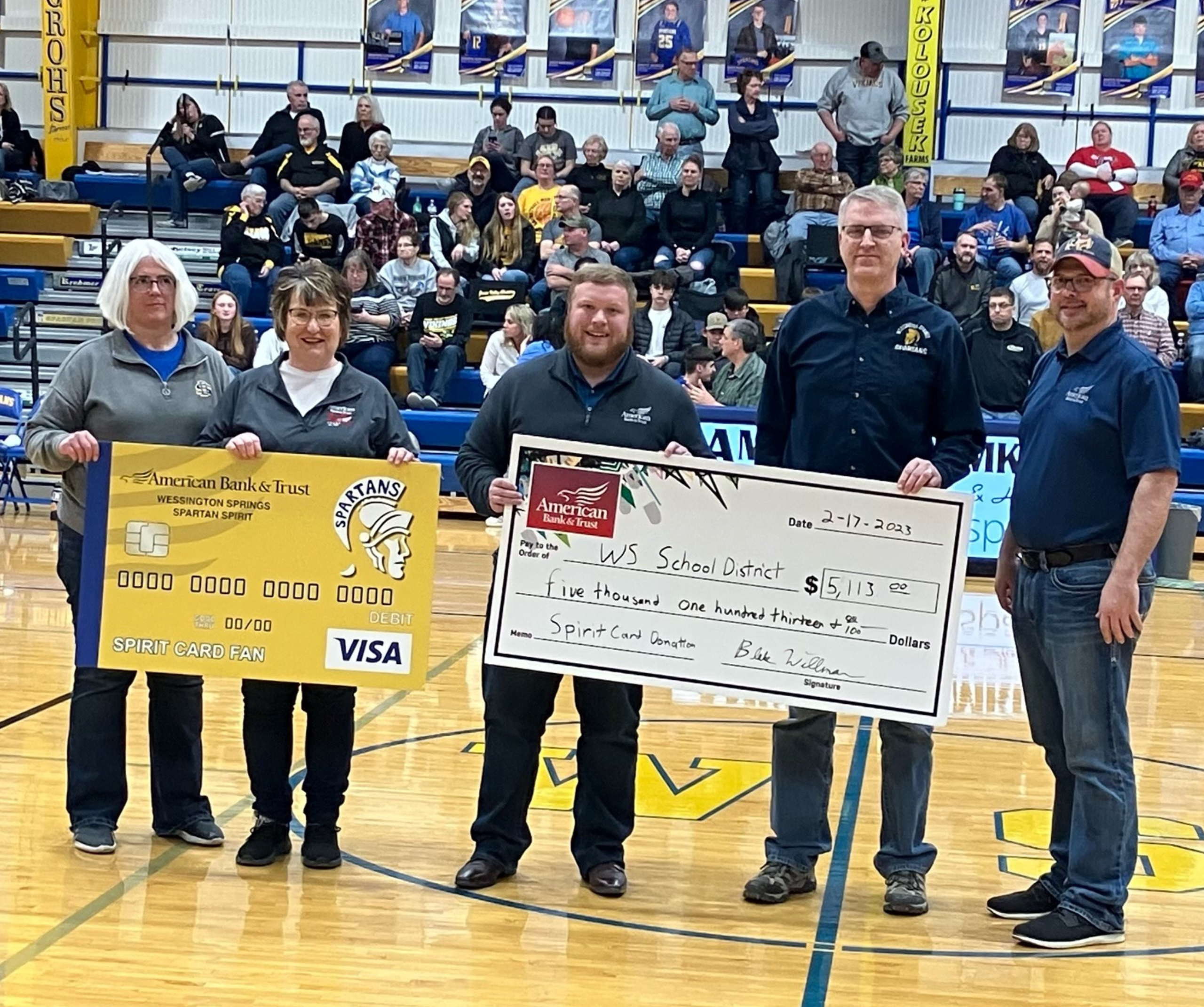 Wolsey-Wessington Warbirds
Wolsey-Wessington Warbirds will be using their $3,243 donation for sensory path flooring, classroom books, storage cart, Cricut maker, and Cricut supplies.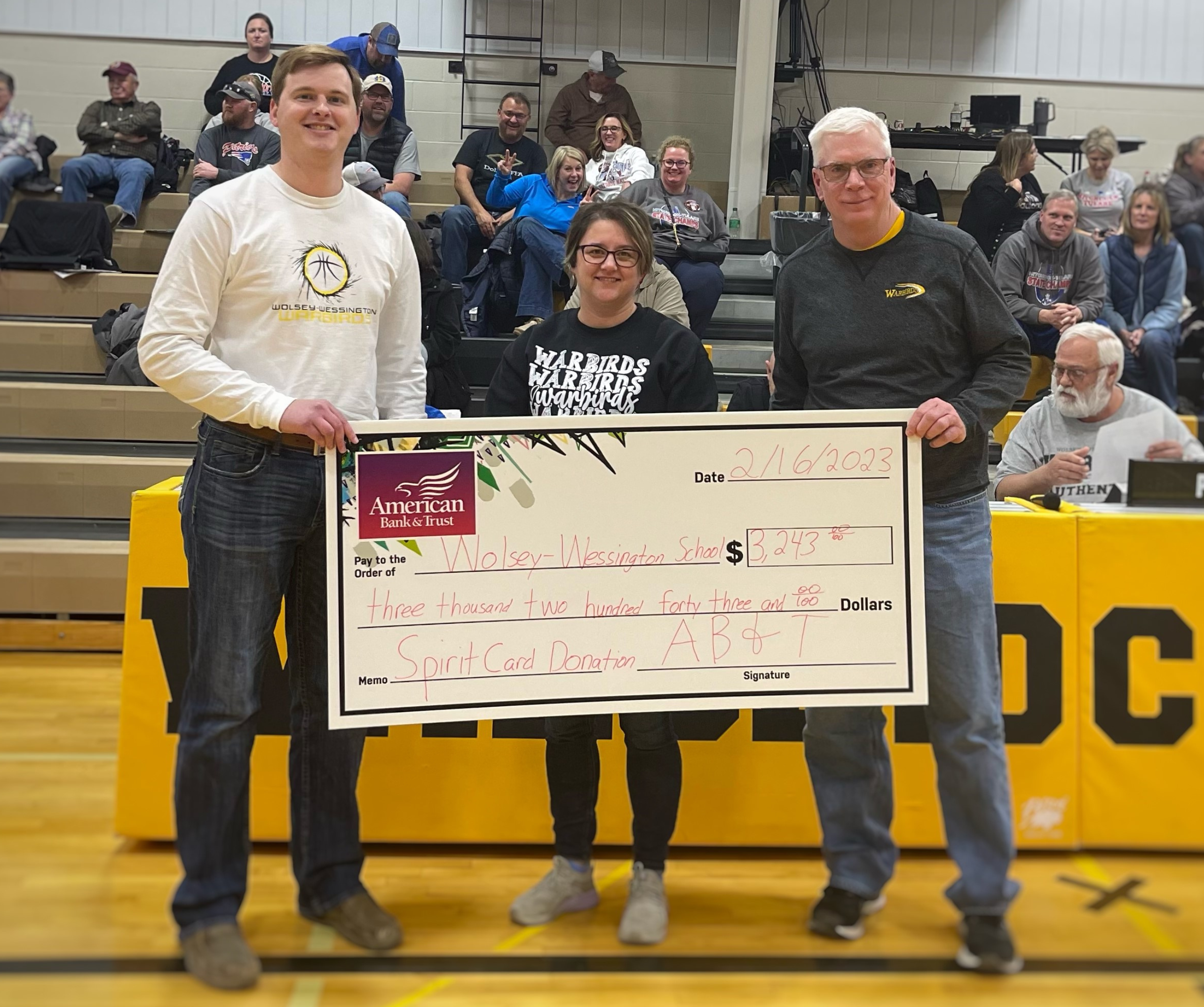 Worthington Trojans
Worthington Trojans received a check for $1,000. These funds will be used for general purposes.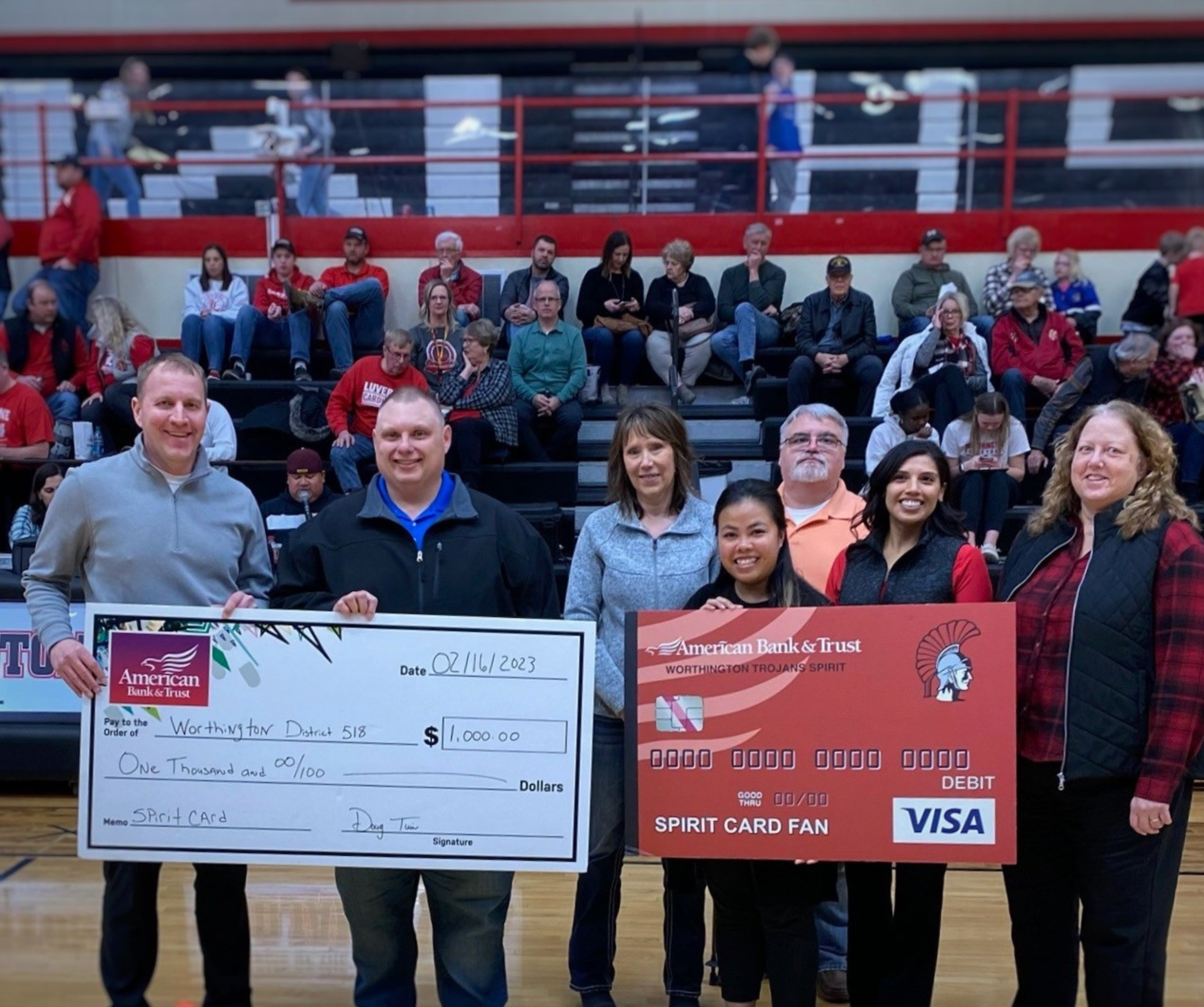 About American Bank & Trust
American Bank & Trust is a locally owned and managed bank that is recognized for competent, professional, and friendly bank staff with unquestioned integrity. We deliver creative freedom to our customers through impactful opportunities that overlap an elite level of financial expertise with individuality and empowerment. Our growth strategy affords us the capacity to meet and serve all our customers' financial needs and the financial products they desire in today's fast-paced world.