At American Bank & Trust, our customers are our friends, our neighbors, and our connection to the communities we serve. We have grown close to those within the communities and welcome them daily with a genuine smile, handshake, or hug. We strive to make an impact throughout these communities to let them know that we genuinely care. American Bank & Trust gives back in several ways but most recently, one donation truly shows the compassion that American Bank & Trust displays when disaster strikes the community.
In this post, we will talk about the following.
American Bank & Trust Generously Donates To Rebuild Miller School
Spirit Card Program To Help Local Schools
2022 Spirit Card Donations
About American Bank & Trust
American Bank & Trust Generously Donates To Help Rebuild Miller School
On Monday, March 14th, American Bank & Trust generously contributed $10,000 to the Miller School District in aid to help rebuild the school after an unfortunate fire. "The unfortunate circumstances from the fire in the school has presented a need for support from our local community," stated Tim Bode, AB&T Market President – Miller. "The damage to the building was extensive, and we wanted to do our part in helping the school recover from this accident."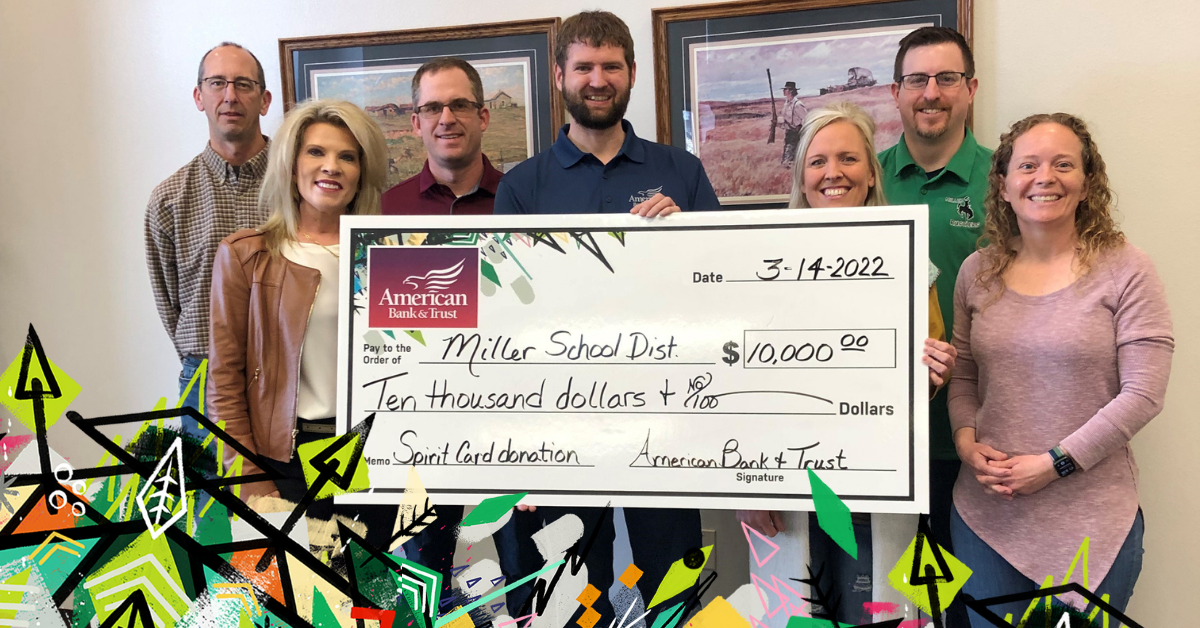 On the morning of Wednesday, February 2nd, there was an explosion and fire within the Miller School building. As high schoolers were settling into their classes, fire alarms began to sound. A student was using equipment in the agriculture shop when a spark ignited an oil spot. This small flame grew larger and caused an explosion that blew out the shop wall. Students and staff were safely evacuated to nearby churches, however, much of the Miller School was damaged from the fire.
American Bank & Trust is so happy to be part of such a tight-knit community and is honored to help support the Miller School District during this time.
Anyone wanting to donate can find updated information on the district's needs by going to the Miller School District Facebook page or by calling Hand County Emergency Management Director, Arlen Gortmaker, at 605-204-0267.
Spirit Card Program To Help Local Schools
Support your favorite local school by getting an American Bank & Trust Spirit Card. In response to the mounting budgetary needs of school districts, American Bank & Trust is inspired to give back to communities through Spirit Cards. Use your Spirit Card to make purchases and we will donate a percentage from each purchase back to the school district on your card.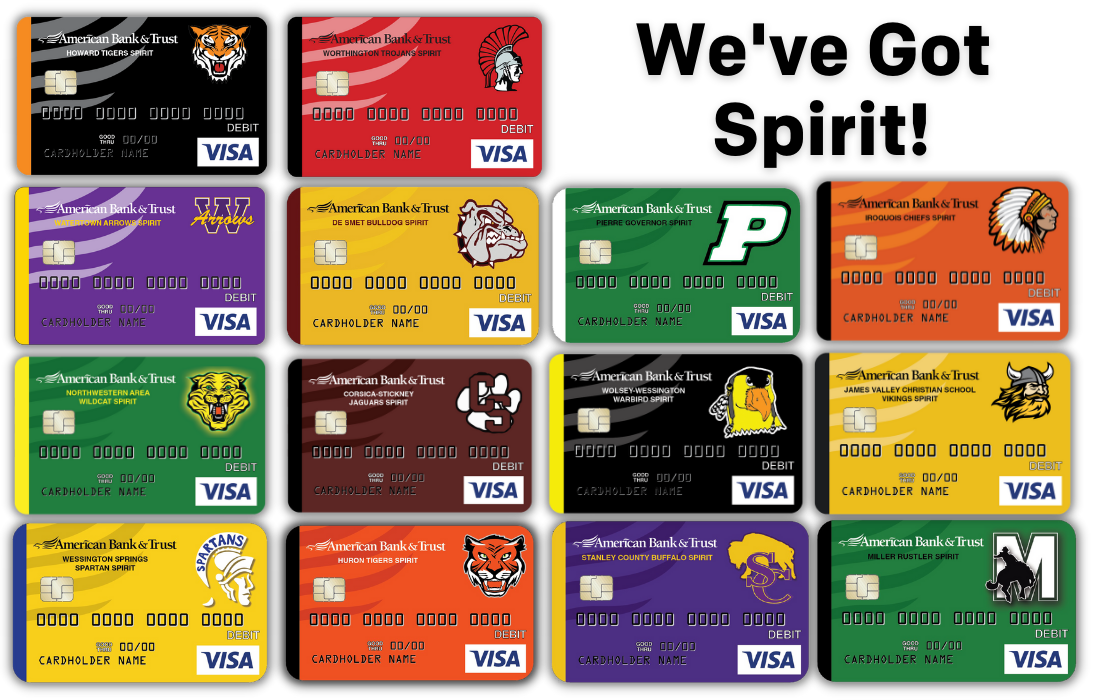 Spirit Cards have helped schools purchase everything from bus passes for kids in need, to a climbing rock wall, travel expenses for FFA Convention, and library furniture.
Get your Spirit Card today by speaking with a banker to at any of our American Bank & Trust locations.
2022 Spirit Card Donations
Spirit Card Donation season is back in full swing! This year AB&T is awarding a total of $24,557.32 to local area schools and our first few donations have already started to make an impact!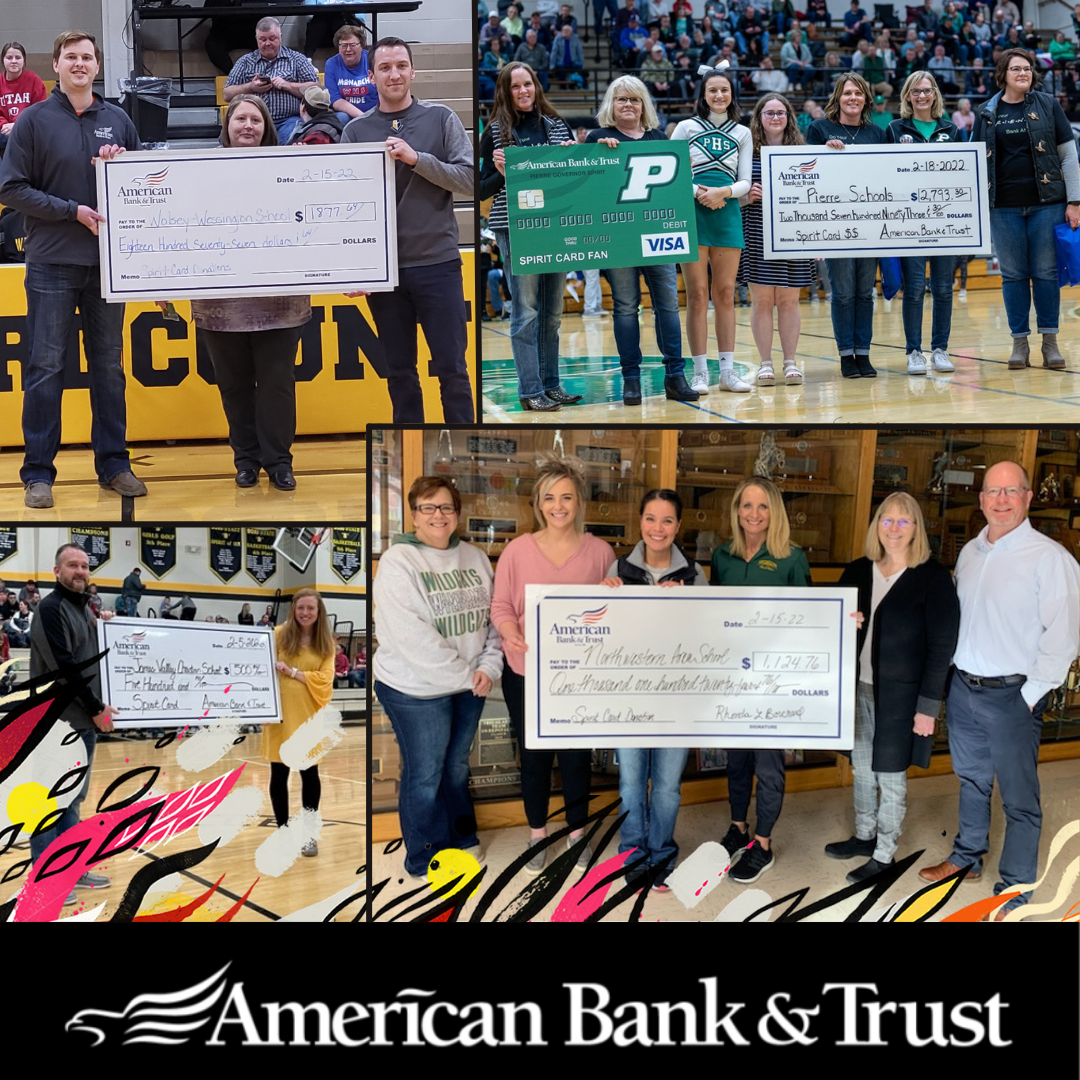 Northwestern Area School District received a check for $1,124.76. These funds will be put towards the purchase of new Track/Cross Country Uniforms for student athletes.
James Valley Christian is putting their $500 donation toward a Systematic Phonics Program and Marching Bank Percussion Equipment.
Wolsey-Wessington School is using their $1,877.64 donation to install 3 Playground Diggers for students to play on at recess.
Pierre School received a check from AB&T for $2,793.30. These funds will help cover travel costs for students to attend the SDSU anatomy lab, STEM classroom educational supplies, transit bus tickets for students in need of transportation and a new AED machine.
Huron School received a total of $4,867.44! These funds will be put toward publishing a children's book written by the 7th grade class, Track & Cross-country Equipment, and Cheer & Dance Stunt Clinic; Additionally, this donation will help a variety of classrooms by purchasing sensory items, fine motor skill activities, laminating sheets, science lab supplies, and snacks for classrooms.
About American Bank & Trust
American Bank & Trust is a locally owned and managed bank that is recognized for competent, professional, and friendly bank staff with unquestioned integrity. We deliver creative freedom to our customers through impactful opportunities that overlap an elite level of financial expertise with individuality and empowerment. Our growth strategy affords us the capacity to meet and serve all our customers' financial needs and the financial products they desire in today's fast-paced world.