There's a reason businesses don't like to transition their business banking accounts. It's usually difficult.
But American Bank & Trust has changed that. Let our business transition team – and transition road map show you how. You'll be on the road to fewer fees, better service and a smooth transition.
A Transition with Just a Few Stops
Your American Bank & Trust business banker will lead you all the way to your new banking destination. A lot of times, businesses are left to fend for themselves. But that's never been our way of doing banking.
We've created a simple roadmap to help you. The process basically consists of:
Getting your signature and information
Opening the new accounts and ordering checks
Reviewing all ACHs and auto payments that need to be changed
Online account setup and a brief training
Initiate transfer from previous bank
Begin using accounts
There are a handful of small things we'll need from you along the way, but most of it is in our hands.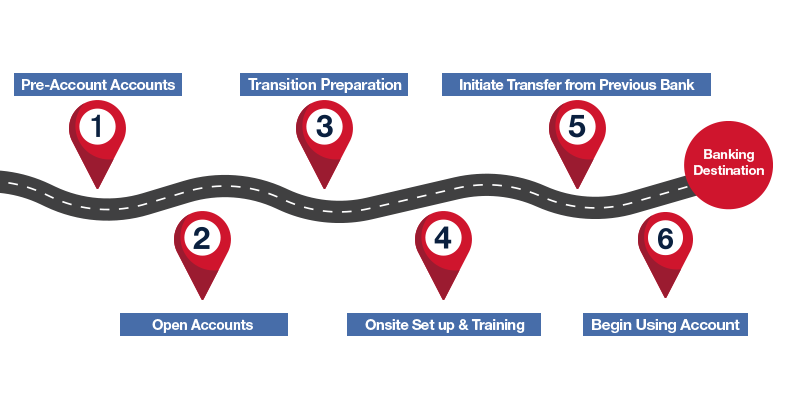 Craig Snyder, CEO of VIKOR, formerly Sioux Falls Tower, says American Bank & Trust was very helpful in their business banking transition. "They went out of their way to see to it that the otherwise cumbersome change was very smooth," said Synder. "As a bank, they tend to our needs in a very timely and professional manner. It's been a pleasure having them as a financial partner on the VIKOR team."
"From the beginning conversation through account setup and beyond, we take a very client centric approach as their banking team. We handle the relationship with great care ," says American Bank & Trust Assistant Vice President of Business Development Travis Olsem. "Prior to any accounts being opened we like to get a full understanding of how their banking process currently works and what they would like to see improved or made more efficient."
American Bank & Trust provides a transition roadmap that highlights the simple steps in the process. Your business banker walks you through the entire transition and is responsible for all follow up. "At the end of the roadmap, we have at least three bankers names listed with cell phone access just in case questions or needs arise," says Olsem. "You won't have to wait on hold or call an 800 number."
Our Business Banking Products
Once your business has made the transition, you can take full advantage of all our business banking products, such as:
Totally Free Business Checking or Interest Checking
Business Savings and Money Market
Business Loans
Free online banking and mobile app
Business Solutions +PLUS with ACH and merchant services
Are you thinking of making a switch but are concerned about the hassle? Not to worry, talk to an American Bank & Trust business banker and get the roadmap to a better banking experience.
Want to know more about this topic? 
Subscribe to our newsletter today!