Cases of the Coronavirus have been confirmed in several states in the mid-west including South Dakota, Minnesota and Iowa. While the number of infected people remains low, American Bank & Trust would like everyone to take the situation seriously and be cautious.
According to the Centers for Disease Control and Prevention, there are things the average American should do to protect themselves –
Wash your hands frequently with soap and water for at least 20 seconds
Stay home if you are sick
Avoid touching your eyes, nose and mouth
Avoid crowds and use other social distancing measures
If you are trying your best to keep a safe distance from other people, our mobile banking products will help you stay at home and stay healthy.  Read on to learn more about the benefits of our app, online banking and mobile deposit.
AB&T Mobile App
At American Bank & Trust, we prioritize our customers' overall banking experience. In our fast-paced, mobile world, that means bringing you technology to access your account right at your fingertips. Here are some great reasons to download the AB&T mobile app today –
Access your account when it's convenient for you, 24/7, wherever you are
Monitor your balances and move money between accounts at your discretion
Automated and on-demand payments allow you to pay bills easily
With Mobile Check Deposit you can skip a trip to the bank and download your checks directly to your account from your phone
With PopMoney® pay a friend back, send a monetary gift and more!
Click here to watch a demo video and learn all the great benefits of the AB&T Mobile App. Download the app to your smart phone today by visiting your phone's app store and search for us by name (AB&T Mobile).
Online Banking
Manage your finances from your desktop computer or tablet. If you'd like to sign up and use Online Banking, simply visit www.ABT.bank and click on 'Enroll' in the Online Banking login area.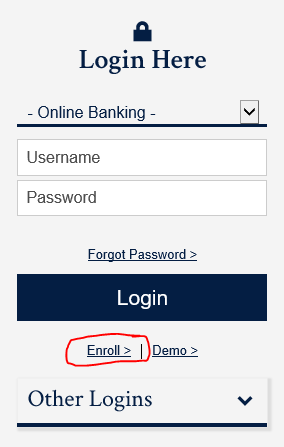 Once you've enrolled and logged into your account, you'll get a quick snap-shot of your bank accounts. You can make transfers and easily review your account's recent activity. A few other features of Online Banking include –
View images of checks you've written
Set up a recurring transfer that takes place automatically
Pay your bills
Set up an alert to get notified when your account balance falls under a certain dollar amount
If you'd like to learn more about the benefits of Online Banking, click here to watch a demo video.
Mobile Check Deposit
Making a deposit is a snap with Mobile Check Deposit.  Before you can use this time-saving tool, you will need to download our app to your smart phone. Once you are logged into the app, simply select "Deposit Check".  Next, follow these steps:
Choose the AB&T account to make your deposit into
Enter the dollar amount of the check
Now, take a photo of the front of the check. Make sure it's in focus and it's clear.
Repeat the process for the back of the check and click 'continue'.
Review your deposit and if it's correct, confirm it.
To learn more about this secure and streamlined way of depositing money, click here.
Have Mobile Banking Questions?
If you'd like to start using one of the mobile banking products that we've talked about above but still have a few questions, call your local Personal Banker today.  Or submit your question on our website.
More Options
If you don't have access to a desktop computer or a mobile device, we have other options for you to do your banking activities.  If you need to get some cash, many of our locations have an ATM machine.  And if you need to deposit money into your account, use the night drop deposit box at your local AB&T.  The ATM machines at our two locations in Sioux Falls also accept deposits.
We hope the banking tools outlined above help limit disruption in your daily life while also assist you in maintaining a healthy environment.
Want to know more about this topic? 
Subscribe to our newsletter today!