Until recently, we've been stuck inside our homes more than usual — a change of scenery could do us good. It seems like the perfect occasion to change up the scenery at our homes. It's remodel season.
Not only does remodeling give you a chance to add updates that match your current style and trends, but it can be a great investment. Renovation projects can boost your resale value, help reduce maintenance costs, and increase comfort. With low mortgage rates, now is a great time to refinance and use that cash to freshen up your home.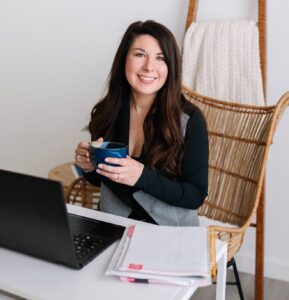 We spoke with an industry expert on the trends to look out for in 2021.
Cassie Beech of Made with Grace and Grit spoke with us about the latest trends she's experiencing.
Maximalism
Beech explains, "For a while, it was on-trend to have a sparse look and a more minimal approach to style and decor. Now the pendulum has swung, and we are seeing a more curated and eclectic approach. Maximalism has louder colors, bold mixes of patterns, and a collected approach. It can be fun and playful. It provides the homeowner the chance to really showcase their personality in their decor. The Friends kitchen comes to mind. This style is a much more casual and aligns with a lot of other trends we are seeing."
Comfort and Function
"Covid has brought nearly all aspects of life under one roof and a lot more of a relaxed style. We no longer need formal living spaces but want to maximize the function of all of our space. Home offices were on fire last year and only growing. I have seen a lot of people who originally set up for a temporary work-from-home situation, but are transitioning their space for the long haul. With maximizing function, we are seeing a lot more double-duty pieces like a table that can fold down or a cabinet that doubles as homeschool storage."
Bold/Warmer Color Palettes
Out with the old and in with the new. "White and gray took the stage for years! Now, we're seeing a lot warmer earth tones and bold, moody colors. The deep rich color palettes in the early 90s, like the emerald green and deep burgundy, are back! This is also translating into kitchen and bath design. White kitchens will always be timeless, but those warm wood tones have been popping up everywhere."
Wall Coverings
"Some things should never go out of style and these are on the top of the list. Wallpaper and wall murals are huge right now. They can be a great way to define your color palette or take a boring bath to the next level. This isn't the wallpaper our parents used — with new technology, they have tons of affordable options that are easy to apply and remove!"
Bring in an Expert
In the end, bringing in an expert can save you time and money.
"Nearly all of my clients say, 'I wish I would have hired you sooner.' As soon as you are considering a change, book a consult with a designer you trust. Those are often a minimal investment, but they can really help you navigate the process and help you find solutions that fit your needs and budget. The decision phase of home updates has been compressed to make up for manufacturing and shipping delays. A pro can help you hammer through all the details."
Plan and Make Decisions Early
Locking things down early will only help you down the road.
"Material costs are constantly changing right now. Knowing your investment up front and making those selections early to lock in pricing can literally save you thousands in this market. The phrase "time is money" could not be truer than right now. Not only have prices changed, but turnaround time has, too. I would strongly recommend you wait until you or your contractor has everything ON HAND before you demo that kitchen. Shipping delays are inevitable—and who wants to wash dishes in the bathtub an extra six weeks because the cabinets were delayed?"   
Work with What You Have
"Maybe you were planning on a new build or purchasing a larger home for your family, but challenges in the current climate have put those plans on hold. My local contractors and I are seeing more people working with their current home to renovate or just freshen up what they already have. You may just need a fresh set of eyes to transform what isn't working for you with minimal investment."
Is Remodeling in Your Future? 
Homes are supposed to add to our lives instead of causing stress or discomfort. With low mortgage rates, now is a great time to refinance and use that extra cash to remodel. American Bank & Trust's expert insights and helping hand will make the process easy.
Want to know more about this topic? 
Subscribe to our newsletter today!