Community banking is more than just being a bank located in your local community. It's about reinvesting back into the community, supporting local small businesses, and adding that extra personal touch that brings your banking experience to a new level. Community banking is stepping up and helping the community become stronger when things get tough. At American Bank & Trust, we are a community bank that stands apart from others by doing exactly those things. We offer a full menu of products & services, reinvest back into our communities, support local small businesses, and add that extra personal touch along the way. Read about 'Why AB&T Is THE Community Bank To Do Business With.'
Full Menu of Products & Services
Large banks advertising suggests they have the upper hand in products and services, but that simply isn't true. American Bank & Trust offers the same services and products as our competitors, including Online and Mobile Banking. Because of our local knowledge, we can tailor our services and products to match our local customer base's needs.
Reinvesting In Our Communities
We believe that our team's daily interactions with customers make a true difference. But, we also know that lending a helping hand outside of the bank's walls can make even a larger impact! One of our bank's key values is 'We are personally responsible for continually finding ways to improve.' We encourage our staff to not only make improvements at work, but also volunteer and help to make positive changes in our local communities, where we work, live, and grow.
Spirit Card Program
Many school districts are seeing rising budgetary needs throughout our communities. In response to these needs, American Bank & Trust was inspired to give back to these communities by launching our Spirit Card Program. You can support your favorite local school with a special debit card that is designed with the enrolled school's colors and logo. AB&T will donate a portion of each purchase made back to the school on your card when you use your Spirit Debit Card.
The Spirit Card program was launched in 2012 with six school districts to choose from. Since then, we have added eight more school districts throughout our communities. AB&T has donated over $218,000 back into our local school districts, with one generously large donation that helped rebuild Miller School.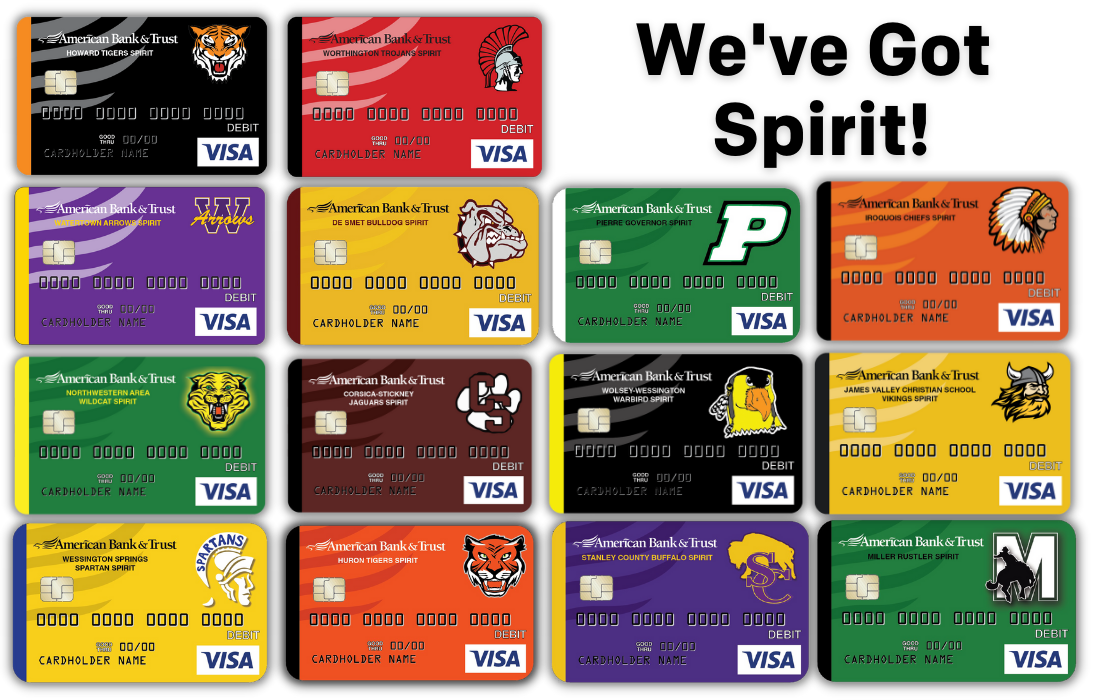 College Scholarships
Each year, American Bank & Trust provides a scholarship opportunity for high school seniors. Applicants must be a graduating high school senior of the current year, who will attend an accredited South Dakota, North Dakota, or Minnesota college, university, vocational school, or community college on a full time basis.
We are still accepting 2023 AB&T College Scholarship Applications through April 15, 2023. If you, or your child, are interested in receiving a scholarship, please use the link below to apply. Scholarship winners will be notified.
Apply now for 'AB&T's 2023 College Scholarships.'
Swipe and Win
Every month, American Bank & Trust gives back to its customers through the Swipe & Win promotion. When AB&T customers use their debit card on purchases, they are automatically entered to randomly win a cash prize for the month. While most months the prize is $500, keep watch for special timeframes where the cash prize is increased to $1,000.
Our latest winner was for the month of March was Brad McGirr. Brad won $1,000 just for swiping his AB&T Debit Card.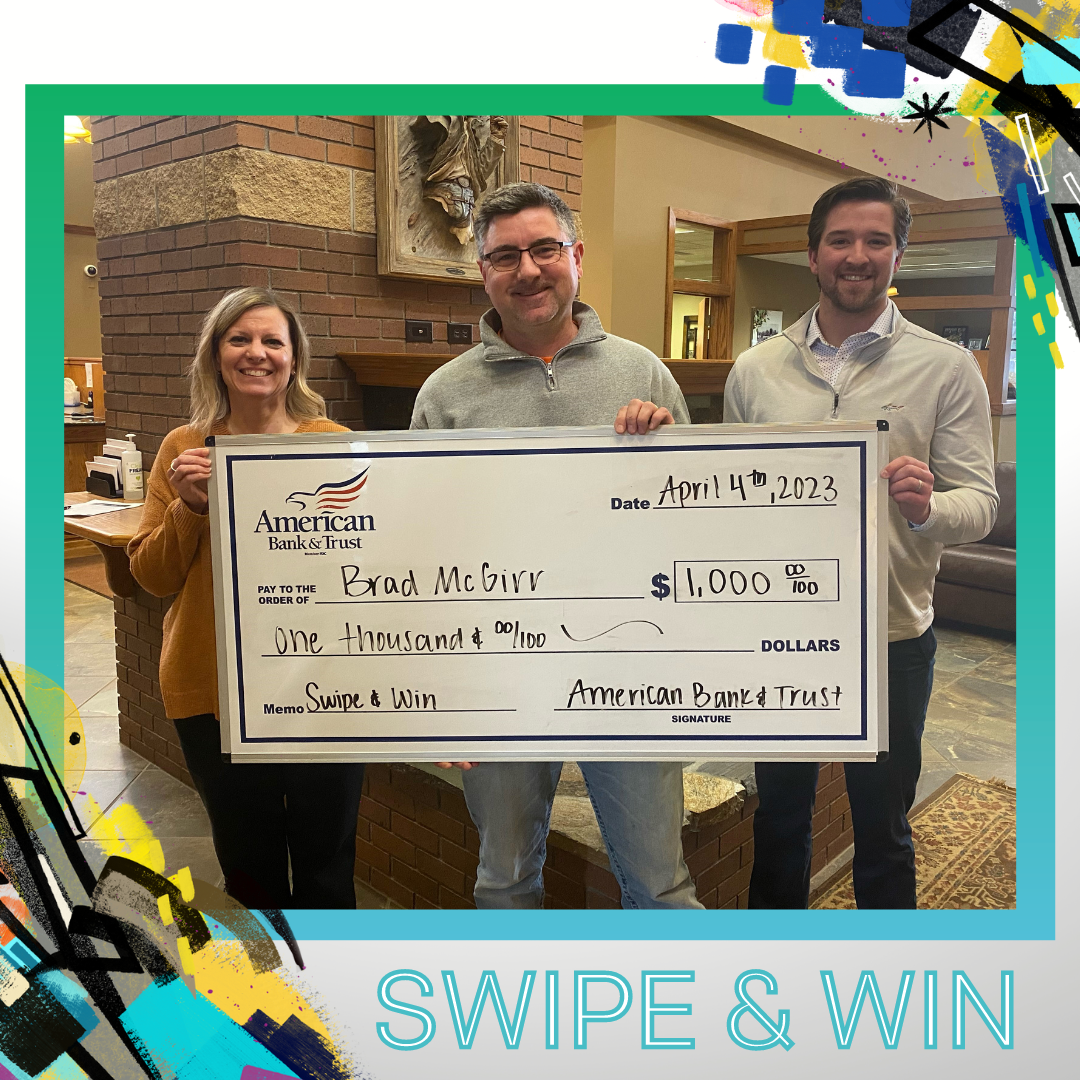 School Supply Drives
We know that lending a helping hand outside of the bank's walls can make even a larger impact! We volunteer and help to make positive changes in our communities where we work, live, and grow together. Between all our AB&T branches, we were able to help local children in need by supplying our community schools with much needed items.
Supporting Small Businesses
At American Bank & Trust, you're more than a number. Our employees form deeper relationships with their customers, leading to higher quality service and flexible decision making. Many of our employees have grown up in the area, and we pride ourselves on serving our neighbors and giving our customers the attention they need every time. With that, your needs have become more complex than ever, which is why having a team of financial experts on your side is a must!
At AB&T, we have people that have solved problems before that are similar to yours. Let us help you eliminate the pain points that slow down the efficiency of your small business. We can transform your cash movement into a bottom-line enhancing machine. Get the insights and resources you need to bring your small business to the next level with our American Bank & Trust Treasury Team.
Adding That Extra Personal Touch
We pride ourselves on going that extra mile to make your experience with AB&T an enjoyable one. You are more than a number, like you may feel like with a large bank. At AB&T, we take the extra time to learn your name and introduce you to our team of financial experts. We commit ourselves to your financial and personal success and will listen to your goals, passions, and needs by offering ideas and options that are tailored to your goals and expectations in a timely manner. See how else we add that extra personal touch by reading our 'AB&T Customer Service Guarantee' below.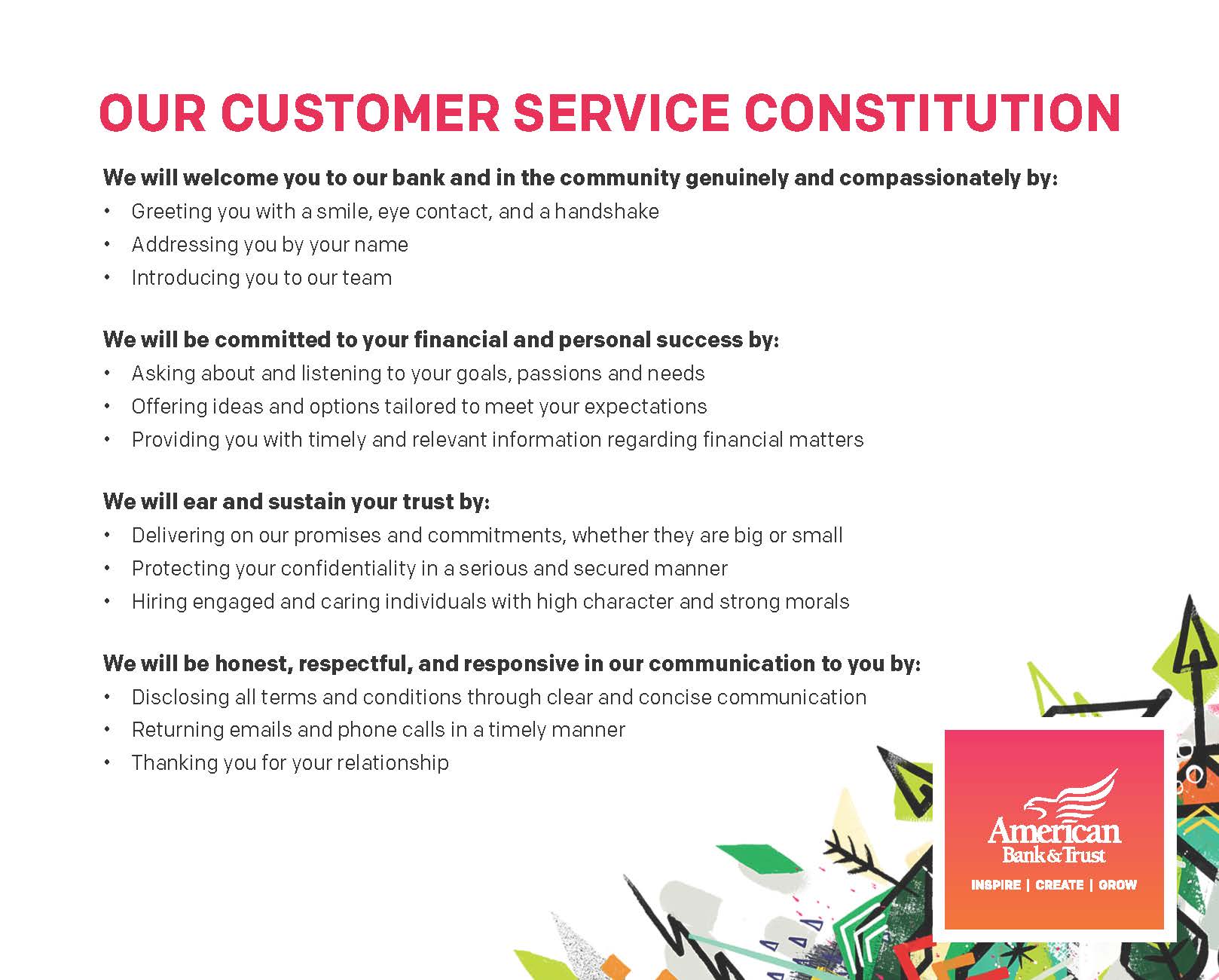 About American Bank & Trust
American Bank & Trust is a locally owned and managed bank that is recognized for competent, professional, and friendly bank staff with unquestioned integrity. We deliver creative freedom to our customers through impactful opportunities that overlap an elite level of financial expertise with individuality and empowerment. Our growth strategy affords us the capacity to meet and serve all our customers' financial needs and the financial products they desire in today's fast-paced world.